OK, so I haven't finished my socks. In fact, I haven't even done anything with them since last week. I am ready to divide for the heel, but haven't yet. Instead I am working on a second sock of Jack's. Not to mention working on my poor mom's big Christmas present…a table runner…that is taking me forever to knit. I think that if I had several uninterrupted hours I would be able to make a lot of progress. Unfortunately, I do not. And because I have to follow a stitch pattern, well, when I get interrupted I end up skipping stitches, counting wrong, forgetting which row I was on. That means taking out several stitches, or whole rows, until I find a place I actually know. I fully expect to finish one sock by this weekend, but I am not entirely optimistic of that 🙂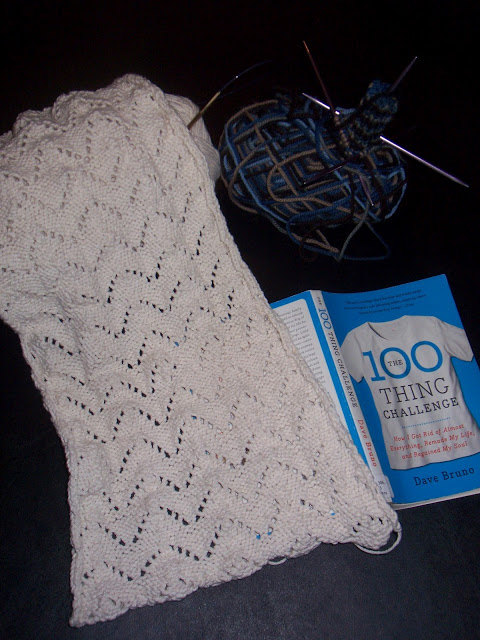 What am I reading this week? Well, I picked up The 100 Thing Challenge. I'm not very far into the book, I never seem to be when Wednesday comes around! It is about a guy who decides to only have 100 possessions…hence the book title, clever right? I think what drew me to the book was the fact that he has a wife and 3 kids, it isn't like he is a single guy somewhere deciding that he has too much, which is how I feel a lot of minimalist books are like. I am in his "rules" chapter right now, and it explains that it is just his challenge, not his wife, not his daughters. So there are definite loop holes to his 100 things. Like joint possessions, and the kids toys 🙂 It will be interesting to see how that works in a family dynamic, and whether they get on board with getting rid of stuff as well!
I wanted to remind everyone that last Friday was my one year blogiversary, and I am putting together a pretty good package (according to me) for a give away, so go on over there and enter! I will draw a name/number on Friday 🙂
And as always, I am linking up with Ginny and her yarn along!