No pictures this week for my yarn along post. Why not? Well, thank you dear reader for asking! The short answer, I haven't knit anything since last week, and I figured you didn't need to see ANOTHER picture of the front of Emma's sweater 🙂 The longer answer? It is absolutely beautiful outside, and has been for the last week. With temps projected to be near 90 the rest of the week, I am most definitely outside in my garden!
I have been reading though. Today I want to introduce you all to a GREAT book by Lorilee Lippincott of Loving Simple Living. It is called 321 Stop – stop running and start living.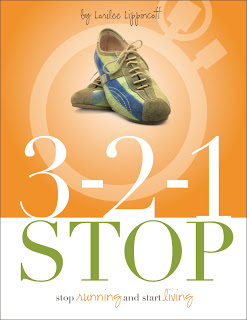 From the book site:
3-2-1 Stop is a how-to memoir of learning to love simple living. Lorilee uses personal stories, as well as tips learned along the way, showing how to create a life that makes space for what is most important. Embracing minimalism, she tackles and teaches how to make the hard decisions of simplify the home as well as the schedule. She understands that a full life, really doesn't need to be that 'full' at all. Beyond that, Lorilee addresses the hidden emotional hoarding that keeps our souls running.
I really enjoyed this book. I have been going through a purging phase recently by way of
Organized Simplicity
, but this book goes beyond becoming clutter free. It puts the *stuff* out of your life, but also out of your thinking.
3-2-1 Stop
allows you to take a look at your whole life, and what you want to accomplish. What is important to you? She is not saying get rid of everything you own, although you may want to when you finish this book! Instead, she is giving you permission to let go of what may not be healthy in your life right now.
I had the opportunity to ask Lorilee a few questions:
What was the biggest driving factor for such a drastic
change from the normal American lifestyle?
It doesn't seem near as drastic now. When we really decided
to make a change I was very overwhelmed and stressed out with everything I was
trying to balance. As a family we really
wanted to travel and have more time with the kids but we never had money and we
were always to busy. We can't grow a
money tree and play all day, but making the changes we did made a huge
difference to both finances and time.
How would you encourage someone just starting on this path
of simplicity/minimalism?
It isn't as big of a deal as it seems right now. When we first started getting rid of stuff
and talking about moving it seemed like this huge thing to us. It was hard to figure out what we actually
wanted to keep and getting rid of stuff was hard. We thought that people might think we were
going broke or crazy. Looking back
months later I hardly remember the stuff we got rid of. People probably still think we are a bit
crazy, but most people are curious and interested. I would rather be a bit crazy and interesting
than normal anyways 🙂
So go for it! Keep on. It is worth it!
What was the hardest part of your journey?
In the minimalism journey it was the fear of what people
would think. I still struggle with
it. With writing the book the whole
thing has been scary as well. People
talk about the problem of writers block but I think it is much harder to get
over the fear that no one will want to read what I have written.
How have your kids reacted to the change in their lives?
Well, they were little when we did our dramatic change and
move last year. Ages 4 and 7. They want time and space to play, they want
attention and love and family time.
Stuff or no stuff isn't much of a deal to them. They are enjoying less stuff when it comes
time to clean up 🙂 My daughter talks
about wanting her own room again someday and my son wants to live in a hotel…
so we can never make them both happy.
What overall message do you want people to take away from
your book?
I want people to understand that they are in control of
their life. If we are stressed or
overwhelmed it is because we have allowed to much to get in. I want people to realize that they can choose
the life they want instead of just living the life that society has handed
them. Intentional living is the core.
Lorilee has been gracious enough to offer THREE copies of her new e-book! Please leave a comment on this post in order to enter the give away. For extra entries you can do the following – just leave a comment saying you did it:
Post about this giveaway on facebook
Tweet about this giveaway
Follow me
Subscribe to my RSS Feed
I am of course linking up at the yarn along, hopefully everyone else made more progress on their knitting than I did 🙂