31 Days of Finding Freedom in Simplicity – Encouragement Going Forward
It has been an eventful few days here at Townsend
House. I expected to have my final 31
Days posts up on the actual days in October, however, life has a way of
changing things.
We had a bit of a power outage here for the past few days.
It was definitely unexpected to have hurricane force winds
come through our part of the country, and lose power for 3 days, but honestly,
it was kind of nice to lose power for a few days at the end of this
series. It put a lot of things in
perspective for me, thus you are receiving a bit of a different conclusion than
what I had originally planned.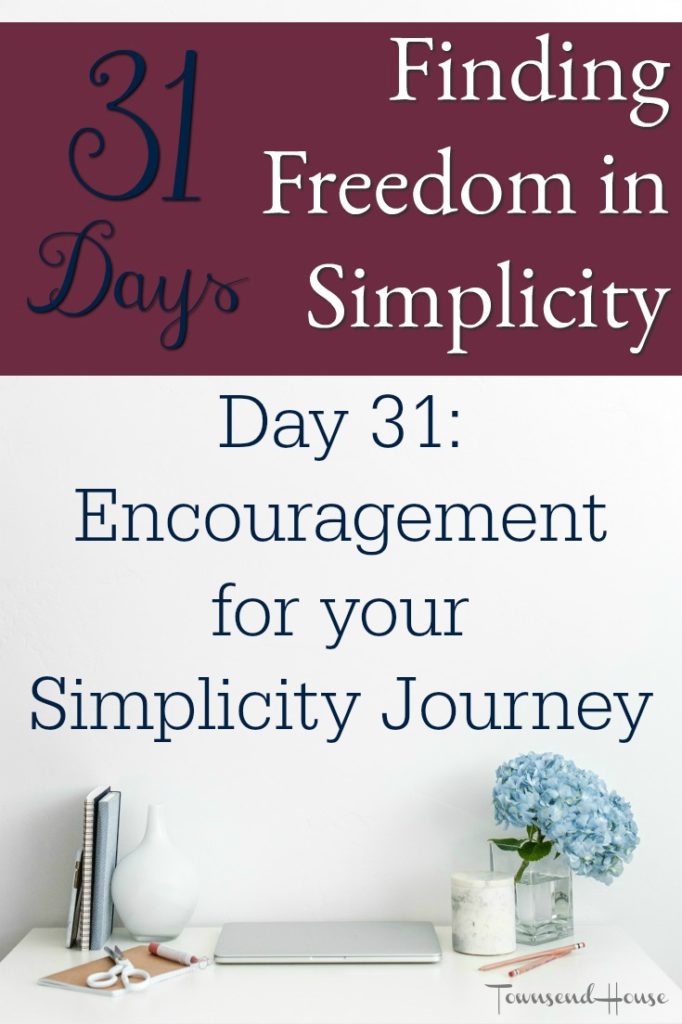 It gave me quite a bit of time to reflect, to slow down and
to focus on the bare essentials. Making
sure that our basic needs were met, making sure all the kids wore enough
clothes so they would be too cold in our 55 degree house.
The reflection was the most significant though. Our days slowed way down.
We had no commitments because most places didn't have
power. There was no TV or internet, so
the kids (and I) didn't have screen time.
I did have access to the internet through my phone, but my main concern
was trying to find out when power would be restored, not following the news or
what one of my Facebook friends was doing.

It was something that was needed.
Something I have been thinking about for a long time.
To just unplug for a while.
What were some of the things that I did during our forced sabbatical
from the digital world, and the busyness of the normal day to day
activities? Well, there was a different
sort of busyness. Making sure I had
boiled water so that I could do the dishes, and make sure everyone was
clean. Figuring out creative ways to
make meals, and realizing that I need to make sure that I have some sort of way
to make coffee with cream when we have no power.
I spent a lot of time reading. The kids each read a couple of books. They played together. The older two started NaNoWriMo on paper,
filled with fun ideas. I pulled out my
knitting (partly because working with wool helps keep my hands warm!), and remember
how much I miss doing this in my daily life.
It made me consider what mattered most. What were the things that I could let fall to
the wayside, and what were the things that I wanted to make sure I did if I
possibly could. Things like my morning quiet
time, still up before the sun, but instead of writing by lamp light, I was
writing by candlelight. Taking the time
to sit and drink my coffee. Talking to
my kids. Reading to my kids.
Now, these are things we all do most days, but looking at
them in a new light was interesting. I
wasn't concerned with making sure we got x, y, and z done so we could move to
the next item on our list. Instead, we
were able to sit back and enjoy the time together more. Perhaps because we all were cold and wanted
to stay under the blankets for a little bit longer, or maybe having that forced
respite from social media and all the other outside requirements, we were able
to enjoy the small moments more, not thinking about what was next.
Well, we have power back, and obviously I am posting to my
blog, so we haven't completely given up the internet. But, I think that I personally need to be
more aware of my time, and make sure that my kids are as well. It is amazing how resilient they are. They are able to move ahead and adjust.
Do we need to adjust?
Do we need to make decisions that are less about keeping up with
everything around us, and instead more centrally focused on our small families
and communities around us?
It is amazing what happens when your world suddenly becomes
so much smaller because of the lack of social media and the internet. It reminds me of how my childhood was; less
about the stress and big world problems, and more about community, and making
connections locally.
If you would like to continue to get inspiration for your simplicity journey, please sign up for my newsletter here:
I'm not saying that we should ignore the big world problems –
because there are many, and they are stressful – but what if we were all trying
to make our local communities a little bit better. What if we start there, and see what kind of
change that can make.
It is about remembering and clinging to those small moments,
those small accomplishments working towards your goals, making those small
connections with your kids that they will remember into adulthood rather than
the newest present at Christmas that lays forgotten by the end of January.
Finding real freedom in simplicity means enjoying those
small things that we often give no time to, and making sure we make the time
for those small moments.
When your kids ask you to read them one more story, when you
teach them a new skill, when you take the time to read and have time for
self-care in the evening instead of rushing out to do more errands.
We all can let that weight go. You don't have to feel like you are drowning,
that you aren't sure what is next, and you don't know the steps you need to
take. In the words of Elsa, you can let
it go.
What do
you need to let go of in order to find that inner peace and tranquility that
you and your family desire?


Find the entire 31 Days of Finding Freedom in Simplicity series here.