31 Days of Finding Freedom in Simplicity – Giving Generously
There are affiliate links in this post. Thank you for supporting Townsend House!
One of the best outcomes from cultivating simplicity in your
life is the ability to give generously.
When you are not held back by buying the latest gadget, or are under a
heavy weight of debt, you have the option to give generously to those in your
community and beyond.
From the view of the rest of the world, I was rich beyond
measure. When we were looking at our
life, we saw huge amounts of debt, and more stuff than we knew what to do
with. But, to the rest of the world we
had it all.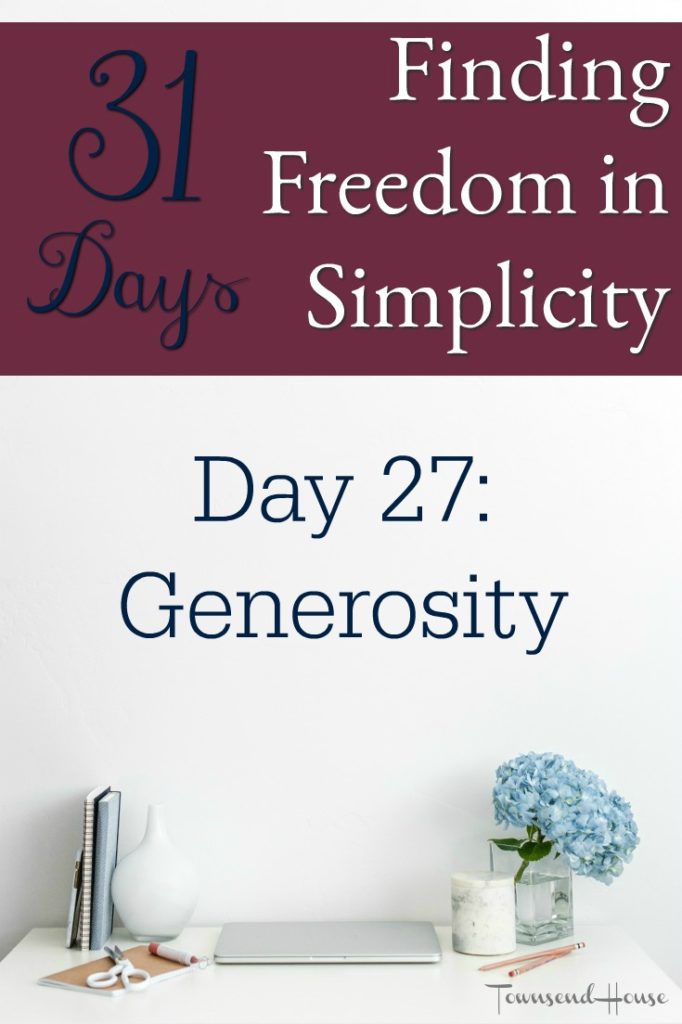 Practicing contentment
was an immediate desire in my life, but the
burden to give generously was also placed on my heart. I wanted to help people. I'm sure you want to help people as well.
It is easy to fall into the trap of woe is me – as in
looking at the bigger and better on social media that you do not have. But, it is also amazing to be able to give
generously to someone else, and the feeling that giving provides far outweighs
any cost to you as an individual.
Teaching my children to give generously is important, but to
be honest they teach me more about giving generously than I do to them. They have always had giving spirits, wanting
to donate all their money to church or an animal shelter, wanting to bring
their toys to the warming center for kids that do not have them, wanting to
start a business so that they can donate all the profits to a cause that is
important to them (almost all of their important causes have something to do
with other kids that are less fortunate than they are).
What a testament for a parent to witness, and also
incredibly convicting. They are so
willing to give all that they have, and we can easily be on the stingy side,
only giving a fraction of what we are capable of giving.
As we find freedom in simplicity, going through our homes
and removing items that we no longer need, are there useful items that can be
donated to those who do not have as much as us?
As we get our finances under control, and there is more space in our
budgets as we pay off debt, are we able to give a little bit more?
Giving generously does not have to mean buying items, or
giving money for a special cause, it can also mean giving of your time. With people busier and busier, and having
more activities and appointments to go to, time has become incredibly precious. And setting the time aside to volunteer is
something that we should all do. It
shows our kids how important it is to give back, and to dedicate some of our
time to helping others.
Do you
have a favorite cause or charity that you love to donate your time and money
to?