It is ironic that in a month that I am writing about self-care, I am having trouble making the time for that self-care!


Take this morning for instance, I have been up since 3am with Lucy, who has decided to forego sleeping in the middle of the night in favor of playing and giggling. While I am happy that she is happy, I am also exhausted!


However, after the 19th time of trying to get her back to sleep (nurse, rock, repeat), I decided I would just get up and let her play and tire herself out.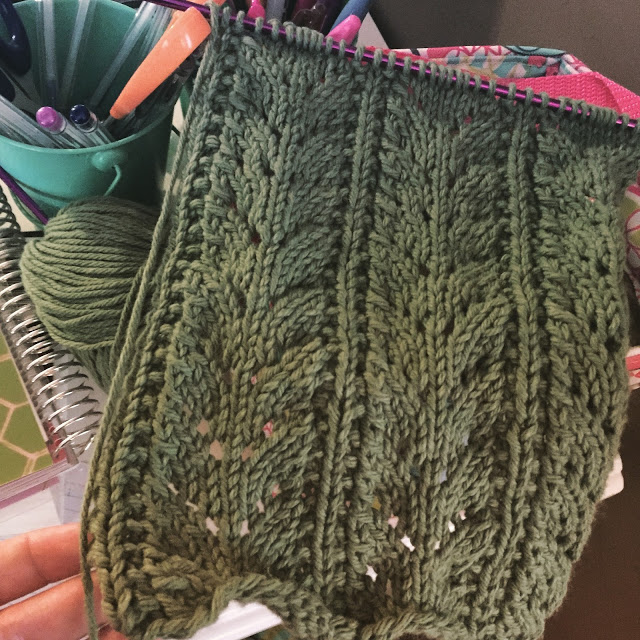 This gave me the opportunity to get a little knitting in!


I am actually surprised I haven't messed up the pattern with my sleepy stupor!


I am still working on this runner, and I really like how it is turning out. The pattern is so pretty, and the green is such a nice color. It is cotton, so it is relatively easy to knit with, although sometimes I wish it had a tad more stretch to it.


I am also still reading the new Twilight book, and enjoying it. I think the names are the hardest part for me. I know that Stephanie Meyer wanted to reverse everyone's gender, and using the first letter of their original names is helpful in identifying who is who, but the names are horrid, i'm sorry. Royal? Archie? Jessamine? What the heck!? But, other than the names being not that readable, the rest is good!


Now, I am going to try and figure out a way to make my brain work today so we can do school! I'm not sure math will be on the agenda, but lots of reading, and perhaps some Bill Nye the Science Guy.


What are you working on this week?