There are affiliate links in this post. Thank you for supporting Townsend House!


As we talk about clutter this week, and how to get a handle
on that clutter, I knew we would need to address a type of clutter that is
unseen, but weighs heavily on us. That
is the clutter of photographs.
I love taking pictures.
I got my first camera way back in 4th grade. It was actually this camera and I loved it. I took it to camp with me, I took it to
school with me, and I took as many pictures as I could (which was 24 at the
time) and then I would send them off to get processed and get back about 4
black pictures, and 20 pictures of trees.
Those were the days.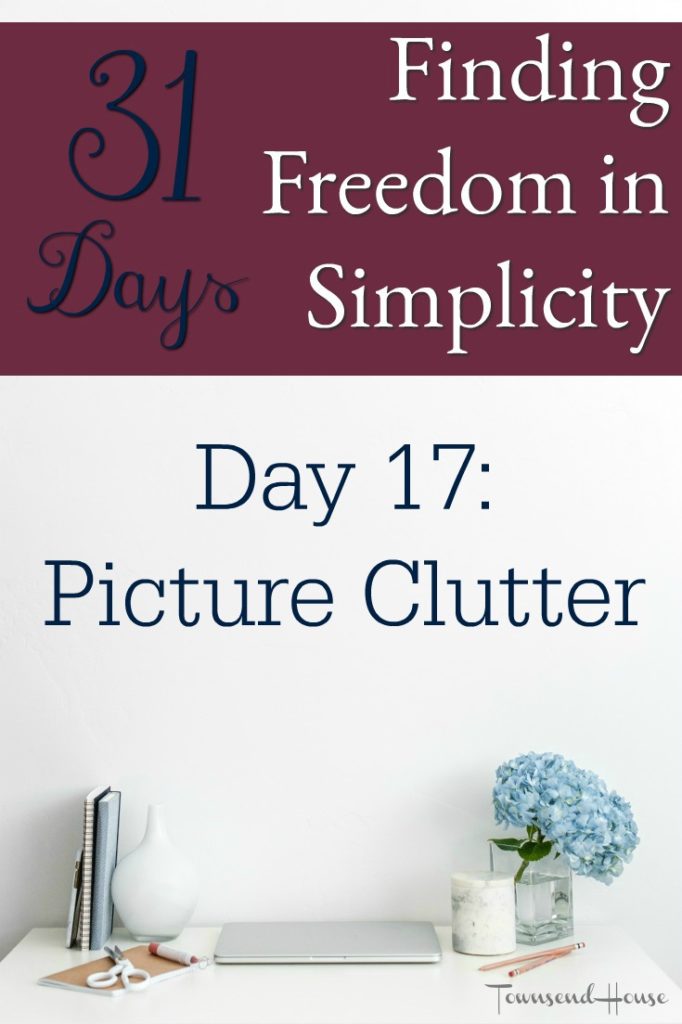 Now, however, I have a DSLR as well
as my iPhone. In fact, I have had a
digital camera for the past 14 years.
That adds up to a whole lot of memory cards filled with pictures of
trees, and kids, and dogs, and life experiences.
What I have never done well; and I would imagine you are the
same, is to go through my pictures, delete the bad ones, and move on. Instead, you have a pile of memory cards, and
such a sense of being overwhelmed at the mere thought of trying to sort through
them all.
Honestly? You need to
just start. Just start going through the
pictures. You may want to start with
more recent pictures, sometimes they do not have such a hold on your heart as
looking through old baby pictures.
This is something that I have slowly been working on. Thousands of photographs are a lot of photos
to go through. On my iPhone alone I have
over 1200 pictures and videos, and those are just of the past few months. You and I both know that you don't need 12
pictures of the same thing in a row. If you
love the picture, or the memory associated with the picture, you should choose
the best one, and have it printed out so that you can enjoy it.
What use are all of these pictures if you pack them away on
a memory card or external hard drive, never to be looked at again?
What should you be doing with all of your photos? You should be deleting the ones that don't
matter, and don't bring joy to you or your family, and the ones that do? Print them.
Put them in an album, and have them available to look at.
Once upon a time I was a scrapbooker. I actually love scrapbooking, but as we have
added babies, the time to scrapbook has decreased dramatically. In fact, I would say it is no longer a part
of my life, no matter how many scrapbooking supplies I had kept packed away,
sure that I would use them *some day.*
But, now I know that I am not going to take the time to do such an
elaborate scrapbook, and instead I print out the pictures that I like, and
stick them old school into albums.
When you start going through your pictures, it will be
difficult to weed out what you should keep and what should go away, but as you
go on, it will become easier. You will be
able to enjoy the memories of those photos, even if they don't make the cut to
the print and album stage.
A few years ago Amanda of soulemama wrote a wonderful post
about photo organization. She takes time
each month to go through all of her pictures, and rates them as to whether or
not they should be printed. She then has
photos printed and puts them in beautiful cloth binders.
This is a project that is ongoing in my home, and I know it
will continue to be a slow process for a while to come, but if you can work on
it a little at a time, as well as keep on top of the pictures you are currently
taking each month, it will eventually get done.
You will have beautiful pictures to look at, and a new way of organizing
them so that they are available to enjoy for everyone.