31 Days of Finding Freedom in Simplicity – Putting it all Together
When I started this series, I had an entirely different layout. I wrote out my ideas, I knew where I was
going to end up. However, how I got here
completely changed. When you start
writing, sometimes your writing takes you a different direction.
What does it mean to find real freedom in simplicity?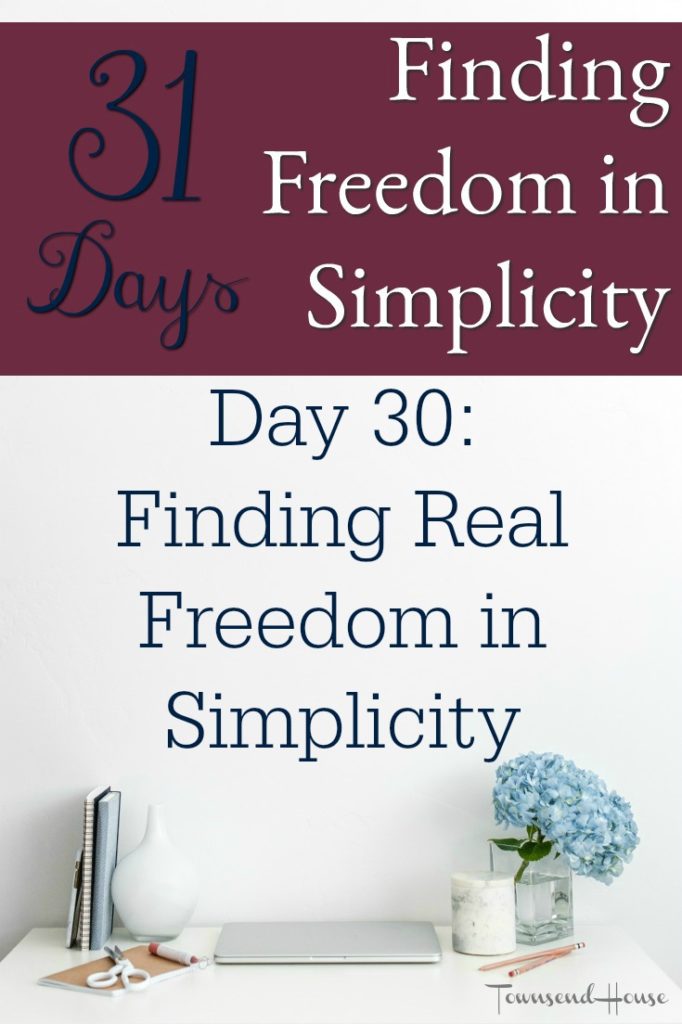 The easy answer is to be able to breathe, to observe the
relationships you want to have, to have confidence in your decisions even if
they are outside the norm. Or if they
are the norm, to still believe you are doing what is right for you and your
family.
Having that confidence is then the main concern.
We see it through social media every day, the mommy wars,
trying to one up everyone else, the vitriol that the news has on every day.
You have to make sure that you can step away from that. That you aren't so wrapped up in everything
else that you forget what is right in front of you.
It is easy to get sucked up into the busyness of the
everyday. How many appointments and drop
offs you have to do for your kids, or for yourself. Making sure you run all the errands, get all
the gifts and make sure that you have everything you need all the time. Honestly, it is exhausting.
How do you easily break away from something like that?
Well you can't easily break away. That is why you need to really look at your
values, at your family mission statement, and make sure that the busy, all of
the decisions you are making with and for your family are the things that truly
matter to you.
Now, of course there are always going to be seasons where it
is stressful no matter how much you simplify, but it shouldn't be for years.
A season is a short amount of time, and you need to be able
to look at your everyday and know if it is a season, or if it is something that
can be changed so that your everyday is not so difficult, not so jumbled.
It isn't something that is one and done either, you have to
continue to pursue this simplicity as you move through life otherwise life has
a way of leading you along to places you don't necessarily want to go.
I know personally that I am constantly re-evaluating. Sometimes that can be easy, and sometimes it
makes me take a real hard look at what I am doing, and I realize that I need to
scale things back dramatically.
I want to encourage you to be aware of all of your
decisions. Really look at what you are
doing, what your family is doing, and make the hard choices – especially if you
feel like things are spinning out of control.
I know that oftentimes when we are moving away from our
family mission statement in our decisions, life doesn't seem to be in balance,
things seem off kilter, and I can never place my finger directly on one thing
that is wrong that I can change. But,
when you take a few moments to breathe, and then look back on those values, on
those statements you created about your family's purpose, you will be able to
bring it back to balance, and be happier for it.


Find the entire 31 Days of Finding Freedom in Simplicity series here.