There are affiliate links in this post – thank you for supporting Townsend House!
This past week we have been discussing simple living, and
how to make choices and decisions a little easier to manage. I want to just preface this by saying I know
that this is a first world problem. I
know that the majority of the world does not have the luxury to make the
choices and decisions that you and I make every day. I want to acknowledge the privilege that we
have, but also understand that have the immense number of choices is not necessarily
good either.
Today I want to share with you some of my favorite resources
on simple living, finding your rhythm and habits.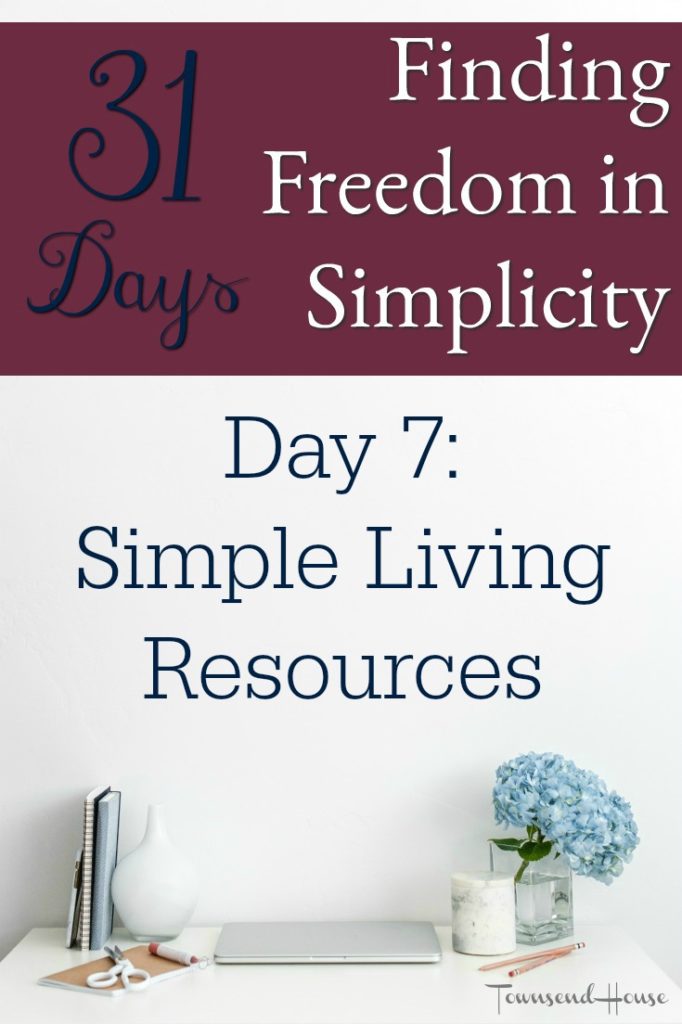 I love love love books.
They are usually where I go first when I am trying to figure out what is
next in my life, or if I am looking for help in some way. It isn't a long list, so I recommend getting
through them all!
7 Habits of Highly Effective People
– This book I read
in college for a small business management class. However, I have recently been going through
it again, and am getting so much more out of it than I did in college. It is definitely a must read.
ThePower of Habit
– I actually got this book for my husband
for Christmas, but pulled off the shelf one day to read myself, and it has some
great ideas in it.
SteadyDays
– This book was one of the first parenting books that I
purchased. I wasn't quite sure what I
was doing, and knew I needed some sort of rhythm/routine/schedule. This book is also where I first started thinking
about my mission statement and subsequently my family's mission statement.
SimplicityParenting
– I think every parent should read this book
regardless your views on parenting. It
concentrates more on relationships and less on the busy of everything
else. It really is one of my favorites
and one I have re-read quite a bit.
The other way that I like to gather information is to listen
to podcasts, although this is definitely new for me. I know that podcasts have been around for a
while, and there are a couple that I have listened to for several years, but
those were because bloggers I really liked were running them, and not
necessarily for specific information.
Here are a few podcasts I like about simple living and slowing down.
Slow Your Home
– I just started listening to this podcast recently, and
they have over 200 episodes, so you have plenty of episodes to dig into once
you are there. They are a family in
Australia, and they are all about slowing down in a complicated world.
The Simple Show
– I have been listening to and reading the art
of simple (and before that simplemom) blog/podcast for years. It has
gone through some changes recently, and I love the new direction. It resonates with me as being something I
have been trying to work on for several years – saying no to things that do not
matter in my life in order to say yes to the things that really matter.
HelloMornings
– This is a relatively new podcast, but I have
been using the hello mornings routine of getting up before my kids in order to
have some quiet time and prepare for the day for years. It was instrumental in getting me back into a
sane rhythm after I had my second child and felt completely lost in the days of
toddlers and infants. Now she has an
encouraging podcast to go along with the wonderful resources at
hellomornings.org