31 Days of Finding Freedom in Simplicity – Values
Last week we spent a good amount of time trying to figure
out why we find freedom in simplicity – and also how to manage decisions based
on what is important to our family.
Today I want to expand a bit on our values, and what that means for our
everyday lives.
When you look at your normal day to day, what do you see as
the main components? It could be a
number of things. For me, I see my job
as a wife and mom – a keeper of my home, my job as a homeschooler, and my job
as a writer and content creator.
Each of these three jobs is incredibly important to me. They are all jobs that I have been lucky
enough to choose on my own. I was not
forced into any of them, and I do them because I want to. However, as in most parts of life, there is
definitely a pull for what is most important.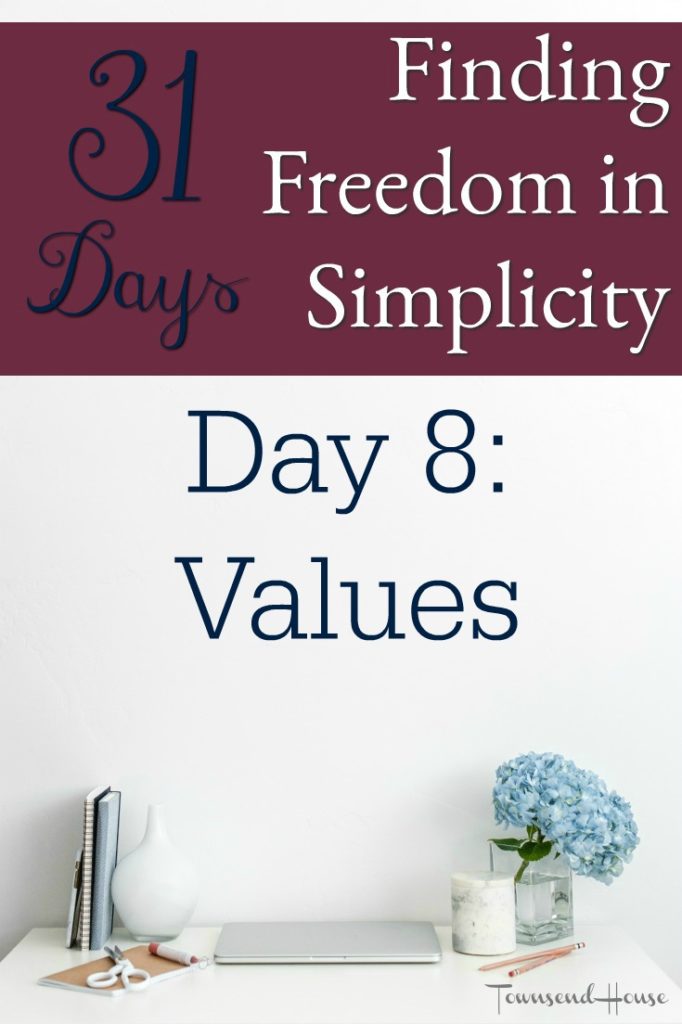 When you think about what is most important, you can
typically go to your personal or family mission statement and make a decision
based on what you have written there.
But, what happens when it is all important? You have removed the urgent from your life,
and instead you are working with a finite amount of time to do the most important items in your mind.
What happens? Well,
an awful lot of stress ensues.
You know that what you are doing is important, and all of
these items are part of your big picture, but how do you prioritize and get it
all done?
The easy answer – you can't get it all done.
The much longer and difficult answer is that you again have
to stop and then re-evaluate.
It is easy to get swept up in the everyday needs of
life. Last fall I was so overwhelmed,
and honestly that feeling did not subside until recently. I thought that I had it all figured out. I had found a great rhythm for my family. I was getting my extroverted daughter into a
lot of classes, which I thought she needed to thrive (only to find out I may
have gone a bit overboard). I started to
make time for friends again in my own life (being an introvert with three
littles at home all day every day makes wanting to be social not much of an
option). I was quickly advancing in my
content creation.
It was all too much of course, and instead of thriving as a
family, we kind of crashed and burned.
Realizing that my oldest, while very social, perhaps didn't need to be
involved in so many activities, and really only wanted to have her public
school friends over more often than we had been able to do during the school
year.
Even though all of these things were important, and they
were measured against our family mission statement, they started pulling us
with the current. Instead of being
actively involved in the everyday, we would go through the motions of trying to
get to the next thing, wondering when we would get home and get a break.
Have you ever felt that way?
The decisions that you had made for you or your family start to sweep
you away on path you weren't expecting?
When you start to reevaluate, it can either show you that
for this season you are going to be busy (we all have busy seasons), or you may
realize that you can make some small changes to come back to the path that you
originally set out on, instead of falling into the current and being dragged
kicking and screaming – maybe that was just me that happened to…
If you look at your values, and you see that family time is
really important to you, but your kids are involved in several activities each
week that pull your family apart, is there a way to let go of one or more of
those activities so that you can be together for dinner several days each
week? Is there an activity that your
entire family can participate in instead of individual activities?
I love how Renee's family has made it a
priority to do a family sport, rather than individual sports mainly because she
wants to be with her family, altogether.

Now, I'm not much of a sports person at all, I prefer
reading to running, but finding an activity that we could do as a whole family
is something that I have wanted to try for a while. What is holding me back? Fear mainly.
Fear that my kids will not be happy unless they are in organized
activities. I think more often they just
enjoy doing the activity, and are less concerned with the way it happens.
If you think about only the things you really want to do –
what would they be?
Would you want to write?
Would you want to read? Would you
want to be outside in nature? Would you
want to cook your food from scratch?
Would you want to travel the country in an RV, or move into a tiny
house? What do you value most?
What
is holding you back from doing that?
We have these dreams and ideas, but no real way to
accomplish them. Instead of working
towards our dreams, we stay in the monotony of the everyday, doing what we
think is necessary to fit in with life, to be normal, to make sure that we
aren't screwing up our kids.
What if instead of working on that ground level, you started
to look up more? Take steps towards
reaching those seemingly unreachable goals.
Would that change how you feel about the decisions you do need to make,
if you start looking at your dreams not just as dreams, but as what your life
will be in x amount of time?
What is
holding you back from living that set of values, and reaching your dreams?