We enjoyed an amazing weekend together as a family this past
weekend. What a wonderful thing to be
able to sit back and relax, especially with all the heat and humidity.
It has been an interesting time, not having a garden this
year. I feel like there are things I
should be doing; watering the garden, weeding the garden, picking the
produce. That isn't the case
though. It has thrown me off a bit in
the way of what we are able to do. I'm
not as concerned about being away from the house for long hours, knowing I don't
need to rush home to water my wilted plants.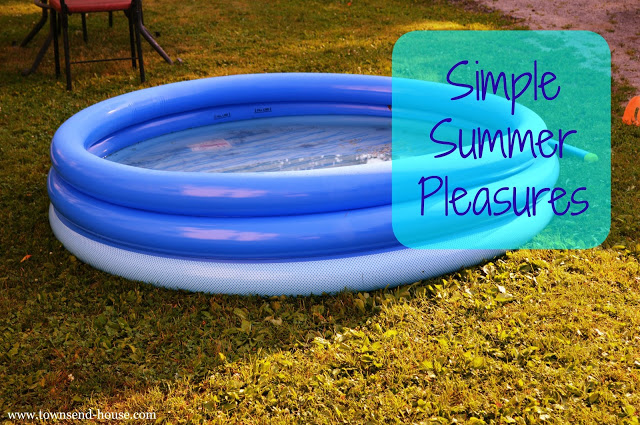 Instead, I have been having leisurely weekend mornings. The ability to sit and drink my coffee, and
chat with my husband has been wonderful.
No concerns about what the day will bring; the perfect way to spend
summer days, in my opinion.
Saturday morning found me up at Target with only Lucy, which
was amazing by the way. I forgot how
easy it to bring only one child out with me, instead of two or three. I ended up picking up a small blow up pool
for the kids to play in. I am thankful I
did! We don't get a lot of hot and humid
weather in Maine, but when it comes, it is often a little much for me.
The kids were ecstatic about the little pool and proceeded
to spend every hour of light (minus our morning at church Sunday) in the
pool.
It made me so happy to see the kids enjoying something as
simple as a $13 blow up pool for hours upon hours, and reminded me of an article I read recently.
I think in the summer we often want to fill up all those
extra hours that aren't taken up by school, but we forget that our kids,
really, just want to be kids.
It takes a lot of pressure off the parent if you don't need
to make all these plans, and instead are able to slow right down.
To me, that is the purpose of summer, to slow down.
I want my kids to have an amazing amount of fun, absolutely,
but I also want them to know that they can make their own fun out in
nature. There seems to be a fine line
for me on whether I am the cruise director, or if I instead give them the tools
they need to make their own fun. I want
them to make their own fun.
This week looks like it will be a beautiful one, and I hope
that the kids decide to spend most of their time in that pool. The warm days are short in Maine, and I want
us all to make the most of it.
Especially since I am already thinking about the next school year, eek!
How are you slowing
down during these summer days? What is
your favorite way to spend the long and warm days?