What a wonderful weekend we had in New England! It was absolutely gorgeous outside. Warm, sunny, and no bugs! Perfect weather.
I was able to get quite a lot done, which is always a good thing – and doesn't happen often enough! I was digging in the garden and able to get peas, bok choy, spinach, and rainbow swiss chard planted. I hope it will all grow wonderfully well, but realize it may still be a bit early to set stuff out. I know the peas will be fine, and I can replant everything else since I still have plenty of seeds.
I dug up some day lilies right next to the side steps to our house. The can get really unruly during the summer. There is some type of ivy that climbs up the day lilies and makes an awful mess. I decided the best idea was to just rip them all out. I still have tons more in my side garden, in the front of the house, in the back of the house…in other random spots around the house, clearly they grow well where I live! I found a couple large pieces of stone behind our one tree (and some other junk), and plan to put those where the day lilies were, then put a potted plant or a hanging plant in there somewhere. Plus, maybe then my beautiful irises will have more of a showcase since they will be the only growing flowers right there next to the door. I found a volunteer along the side of my house as well. I'm not sure where a daffodil came from, but it is very pretty!
Our chickens are doing amazing. Everyone seems to be healthy and happy. They seemed to have doubled in size overnight, and it is crazy to see how much they change each day.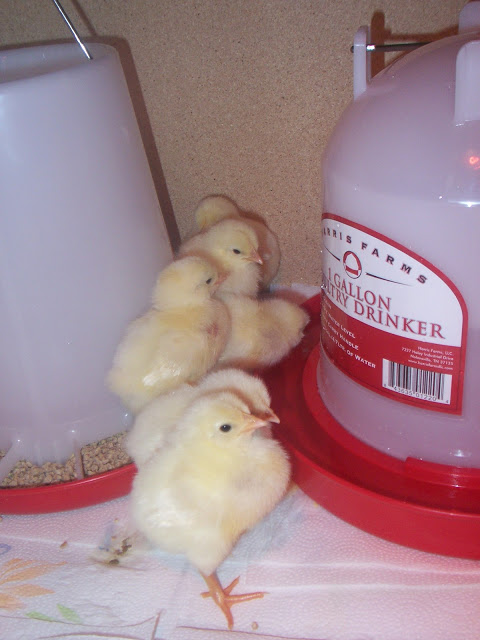 when we brought them home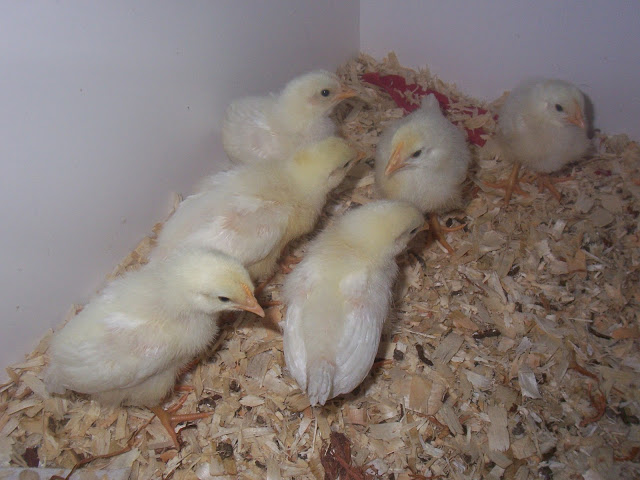 Today
We made the brooder larger as well. They are flying about quite a bit. I came in from playing with the kids to see them on top of the screen I thought would keep them in the box. Apparently the couple of inches of space still open (over their feeder and water container) were enough to let them explore a bit. Luckily none of them decided to hide. Now I have a piece of wood covering the open part.
I am linking up with the Barn Hop today! Looking forward to seeing what everyone else is posting about!