I am not sure how my little guy is already 6. We celebrated Jack's birthday this past
weekend, and honestly, it snuck up on me.
I obviously knew going into the weekend that he was going to be six, but
still, it seems like a big one to me. Up
through age five I still view my babies as my little babies, but then six seems
to be another stage entirely!
We decided to do a scavenger hunt for Jack's birthday. Partly because we had done one for Emma
back in May, so we knew that Jack would also want a scavenger hunt, but also
because he loves adventure, and this would surely be an adventure for him.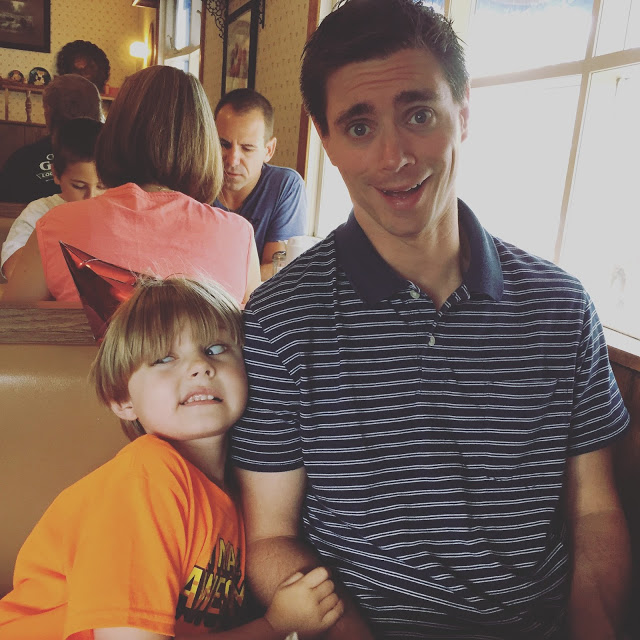 He wanted a Super Mario Bros theme, and so our home looks
very patriotic (we haven't taken the decorations down yet) with red, white, and
blue everywhere.
He started out with a little grab bag of different items and
his first clue. He then proceeded to run
around our home, and down to my mom's house to find all of his clues. With each clue we had put one of his
presents.
Jack loves two things right now, the aforementioned Super
Mario Bros, and making stop motion movies with Minecraft Mini-figs. So, his birthday presents were mainly new
Minecraft Mini-figs to add to his collection.
After he gathered up all of his presents, we went out to
breakfast at our very favorite pancake house.
We have been going there for years, and definitely feel like
regulars. I remember going with Emma and
Jack when they were really little and would not go back to sleep in the
morning, so we would pile everyone into the car at 6am and go to breakfast
(read – drink coffee).
Once we were finished with our meal, our waitress brought
Jack his next clue. This is the most
exciting part of the whole day I think; he doesn't understand how people have
clues for him. The next stop was to the
bowling alley.
I would never have thought to take the kids to a bowling
alley for their birthday, but several months ago, one of Emma and Jack's
friends had a birthday party there and it was awesome. So we went, and it did not disappoint. The first surprise was that Matt's parents
surprised him by showing up at the bowling alley. Then we all proceeded to bowl, play video
games in the arcade, and generally have a good time. They turned the lights off and did a light
show complete with glow sticks for the kids, and announced Jack's birthday over
the speakers complete with the Happy Birthday song. We had pizza and then at the end Matt's
parents gave Jack his last clue.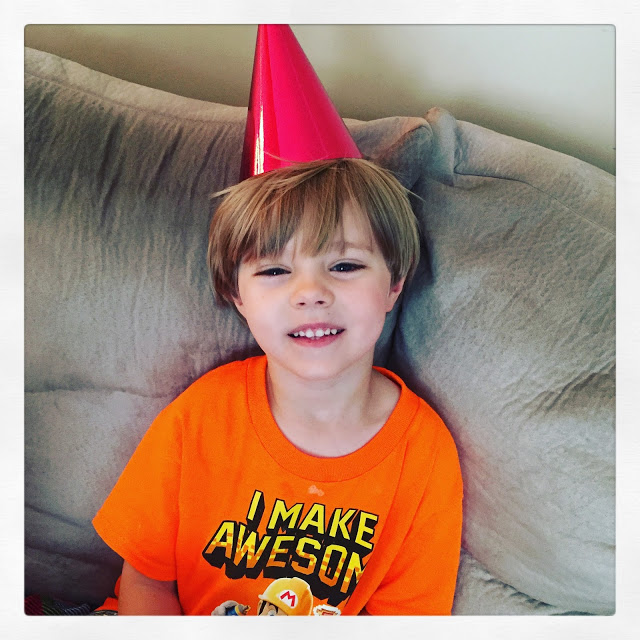 The clue was to find a big comfy chair to relax since they
had been using so much energy running around the bowling alley. I took Lucy home for a nap, and Matt took the
kids to see a movie at the movie theater.
Jack was incredibly surprised.
Our movie theater only has reserved seating now, but with reserved seating
comes big comfy reclining chairs.
They came home for cake and ice cream; to play with his new
toys, do a couple of rounds on the original Super Mario Bros, and then everyone
crashed for the night.
Overall, I would say it was definitely one of the best
birthdays! I know that the kids had a
great time, and so did we! It was nice
to not have a big party and instead have it be a much smaller family oriented
day.
How do you guys
celebrate birthdays in your family? Do
you have any traditions that you like to keep every year?