Last week I shared my go to muffin recipe. It really is my go to muffin recipe, and shows up in my home on a weekly basis, especially once it starts to get cool outside…and let me tell you fall is definitely knocking at my door right now!
Apple season just opened for pick your own up here last weekend. We haven't made our way over to our favorite orchard yet, that is on the agenda for Saturday, but my local grocery store happened to have the same apples that we will be picking next weekend, albeit at a slightly higher price. I picked up half a peck to bring home to my apple loving daughter – she will eat about 4 macs a day if I let her – with the promise of apple muffins.
There is something so satisfying about apple muffins to me. They are super easy, and such a treat. Typically I try to make them relatively healthy, I never ever put a streusel topping on my muffins. However, for the first apple muffins of the season, I felt it absolutely appropriate. Not to mention we have one sick little girl, so something a little special to cheer her up was in order.
I was able to take this: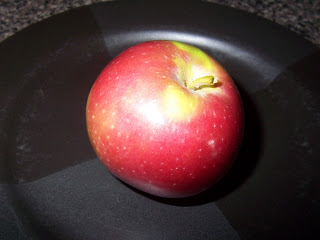 And turn it into these: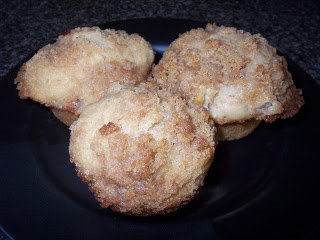 You may be asking yourself, where are the rest? Well, these three muffins are all that are left from my batch of sugar muffins this morning. My family devoured them so fast, I was almost not able to take any pictures of the final product! Matt dubbed them the best muffins he every had, and then promptly went into diabetic shock 🙂 Perhaps next time I will make these for an afternoon snack, instead of a 7am breakfast!
What is your favorite apple variety? Mine is the Cortland, it stores pretty well, and makes delicious apple sauce. Or are apples not a local fruit for you? And why is it that we have apples from Washington State in the store right now even though it is apple season in Maine? Probably the same reason the Idaho potatoes are here…even though Aroostook County has some of the best potatoes I have ever had…hmmm…food for thought.