I have been missing the past few weeks. Not because I wanted to be gone, but life happens, and sometimes it is easiest to step back from things like the blog to live the life I write about 🙂 And more importantly, yesterday was our first official day of homeschool. We are very excited to be starting this journey! And the day went wonderfully – well until my kids decided their typical rest time wasn't needed.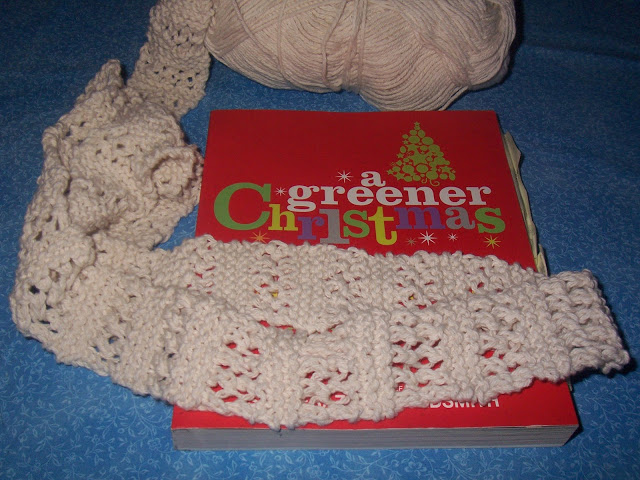 I am currently working on a scarf in a lovely cream colored cotton yarn. It is a skinny type fashion scarf, and is knitting up quite nicely if I do say so myself! I don't have anything else lined up to knit after this, so I am hoping to get serious about my Christmas knitting and crafting and make a plan…the plan that I have been attempting to put together for the past month!
Which brings me to the book I am reading. I am currently reading, A Greener Christmas. It is one of my go-to books every Christmas season. There are some wonderful recipes, as well as ornaments and gift ideas. It also has a lot of ways to use nature in decorating and making quality gifts. I definitely recommend it if you are looking for something that is more "green" for Christmas.
I did receive a book in the mail from Lisa at Two Bears Farm called Yes, My Darling Daughter which is a gothic type novel. I haven't started it yet, but it looks really interesting, I am sure I will have more info about it next week!
And that is what is going on here. What are you up to? Joining in with Ginny and her Yarn Along.