This shop has been compensated by Collective Bias, Inc. and its advertiser. All opinions are mine alone. #SkinCareForBaby #CollectiveBias
You would think after having three babies, the diaper bag
would be the easiest thing to remember.
However, you would be wrong. It
seems like there is at least one outing a week where I forget the diaper
bag. It actually seems to be getting
worse as we add children. It happened
just a couple weeks ago when we were having a play date at a friend's
house. We had to pack up early and head
home because, you guessed it, I forgot the diaper bag.
What is that saying about giving half your brain to your
baby…times three?!
Often it is when I am running a quick errand, and just end
up forgetting it. To be honest, I am
happy that I remember all of my children when we leave the house.
What is a forgetful mama to do?
One way that I have managed to make forgetting the diaper
bag a bit easier, is to have a back-up stash of items already stored in the
car.
This extra stash comes in handy whether you are running a
quick errand and forget your diaper bag, or you have a particularly messy time
on your hands, and go through A LOT of diapers and wipes in a short span of
time. This supply is also incredibly
helpful for when you are taking longer trips, and perhaps need a lot more
diapers and wipes than a typical diaper bag would hold.
What items do I keep in my car for those times I have
forgotten my diaper bag?
First, you need a container to put the items in.
I love to use a 15 quart clear, plastic tote
with a locking lid.
It is a little bit
bigger than the shoebox size, and fits all of the items in easily.
It is small enough that I can slide it in the
back seat under the kids' feet if I need to, but sturdy enough that it can also
be packed tight into the trunk.
The first item I keep in my car tote is diapers. There have been too many times that I have
gone out of the house and realize that I have forgotten the diaper bag, or that
I have remembered the diaper bag, but had not replenished my diaper supply –
not a good thing!
I love the Huggies® Little Snugglers diapers. They are perfect for my baby, who is in size
3 right now. I love that they are in
sizes NB-3 and offer superior protection for Lucy's sensitive skin. We had a lot of trouble finding disposable diapers
that did not cause skin irritation, and the Huggies® Little Snugglers fit the
bill.
The next item is obviously the wipes. We LOVE Huggies® Natural Care Wipes! They are softer for sensitive skin. Every baby gets diaper rash at some point
(most often for us transitioning to more solid food), and we have found that
these wipes keep the diaper rash away.
Using the wipes and diapers together has given us an amazing result for
Lucy's extremely sensitive skin. Finding
something that protects her skin, while also protecting against leaks and other
issues was important to me.
Having two older children as well, the wipes come in extra
handy. It seems like my older kids need
to eat a lot when we are out (is this just me?!), and we end up having messy
hands and faces. We use the wipes for
all manner of clean up, and they have served us very well over the years!
To go along with the diapers and wipes, we keep small trash
bags in the box. We use the plastic bags
we receive at the grocery store because we always seem to have extras. Also, a change of clothes for Lucy, which in
the winter is a one piece pajama outfit.
If I get to the point where I need to change all of her clothes, I do
not want to be putting her in another cute little outfit! Ease is the key for me here. And of course, hand sanitizer.
Other items I include are some snack pouches for the
kids. I have them for Lucy, but I also
buy pouches for Emma and Jack as well.
Having the snack in a pouch allows for a little less mess, and I find
that I am able to get pretty healthy options. I keep some fruit in addition to the pouches. We also always keep a few bottles of water. We bring our water bottles everywhere, but
often they run out, and we need a back-up option.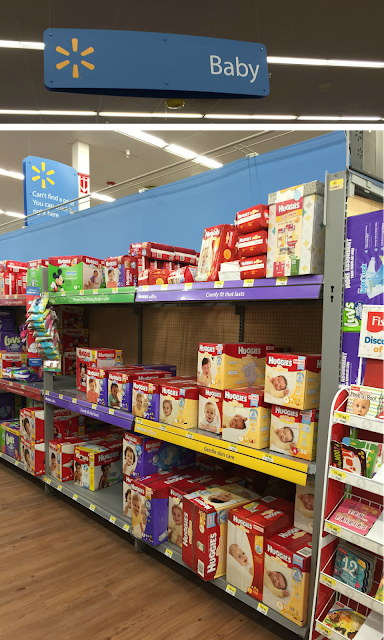 When I do need to re-stock this bin, I head into the Walmart
Baby section of the store. They carry
everything I need there. I love that
they offer amazingly low prices, which is important if you have ever bought
diapers before – you know how expensive they can be. You can get a pack of the Huggies® Little
Snugglers for as low as $8.97 per pack.
We typically buy the bulk box of wipes, but you can also buy the small,
64-wipe package for $2.37. But, you can also find everything online – and who doesn't love to just order things online?!
My brother and sister-in-law just welcomed their third
little one. A tiny peanut at 6lbs 14oz
(which is a whole 2 pounds smaller than their older 2!), and we will be gifting
them some of diapers as well as wipes to use.
Having three little ones 3 and under is going to be a challenge, having
a great solution to deliver amazing skin care to her newborn shouldn't be a
concern!
Do you keep a separate
bin in your car with supplies? What
would you add to my list?