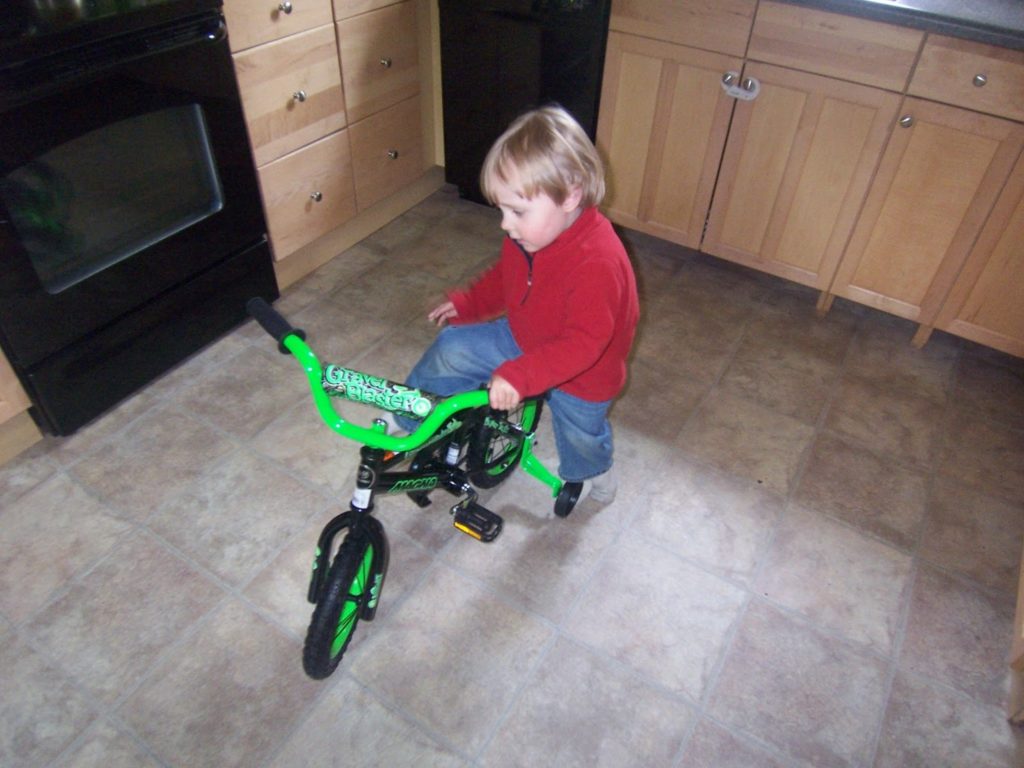 We got the kids new bikes this past weekend. It was so fun to go and pick them out, and have the kids try out different ones. Of course, they are both too small to get the bikes that are already put together, so we came home with two bikes in boxes, which Matt and I (mostly Matt) put together.
The rain gave us a bit of a reprieve on Sunday afternoon, so we were able to get outside and enjoy them. These are the first "big" bikes for my kids. Before this, Emma had a tricycle and Jack had a power wheels – both of which they still like to use.
Emma was definitely ready for a bigger bike though, and that prompted us to go on the little shopping trip. She chose a Barbie bike, and it has 16″ wheels. I thought for sure she would choose a Disney Princess one, but apparently the Barbie bike had a bunch of things to decorate. Ahhh, the power of marketing on the youth of America!
She does a great job on the bike! I was concerned at first, our road has a bit of a drop-off, but she handled the steering like a champ. Our street has a gradual downward slope to it, so going down the street is a lot of fun! But, coming back up the street is not something she is able to do yet. I am sure as the summer goes on and she builds up those muscles it will be a breeze, but it was a tad frustrating for her at first.
As for Jack? Well, he mainly likes to hold on for dear life as we run his little 12″ bike up and down the street screaming "wheeeee!!!!" the whole way. It really is entertaining – if you are watching I mean – if you are the one running the little bike up and down the street…well that isn't nearly as entertaining 🙂
How old were your kids when they first got on a bike with training wheels? Or did you immediately go for a 2-wheeler? This is uncharted territory for us!