I am in the middle of packing for a small semi-vacation right now. And because of that, totally forgot to write a post for today! So here goes 🙂 We are having our annual mocksgiving at my brother-in-law's this weekend, and that coincides with a trip for Matt's work, so we will be combining the two. It makes more sense than traveling back and forth in a few days time! I am looking forward to the following:
~someone making my bed everyday
~free breakfast at the hotel
~a pool and a hot tub
~a night out with my lovely friend
~a fun filled day of family and food
In the meantime, I will hopefully be doing a lot of knitting while Matt has the car and I am sitting with two babes in a hotel room! Right now I am still working on Christmas knitting. Surprise surprise. I guess I am always working on Christmas knitting. It is a little difficult this year because my little Emma sees me working everyday, and is constantly asking about her list. Not to mention that when I finish something, she wants to use it immediately. I have been trying to do my "finishing" when she is sleeping 🙂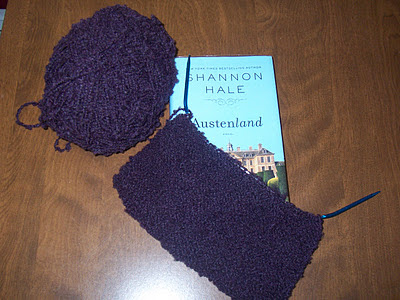 This week I read Austenland which I saw on another yarn along blog recently. I love Jane Austen, and this was a cute story to read. On a sort of related note, did anyone else see the recent news story about Jane Austen possibly being poisoned with arsenic? Strange…I am also reading The Vampire Diaries: The Return: Nightfall. Which is seriously awesome, and not at all like the tv show…which I am still addicted to by the way. I also have Simplicity Parenting waiting in the wings…clearly a wide variety of reading, but definitely all enjoyable!
I'm linking up with Ginny for her yarn along today!