There is just something about books that I love. Perhaps it is getting lost in an amazing story, or maybe learning something new. Books open the world to us.


You may have guessed that I have a bit of a passion for reading. So much so, that we are taking a literature based approach to homeschooling.


With that approach, however, comes a lot of books.


Now, I know some people who are amazing at using their library and not purchasing a large amount of books. I am not that person. I mean, I love my library, and we take books out all the time (you know, when our accounts haven't been frozen due to late books or unpaid library fines!), but there is nothing like owning the book. I love to go back time and time again to read the books that I love.


With all of these books, there comes a time each year that I have to reorganize them. OK, so there are several times a year that I need to reorganize them.


That time is now.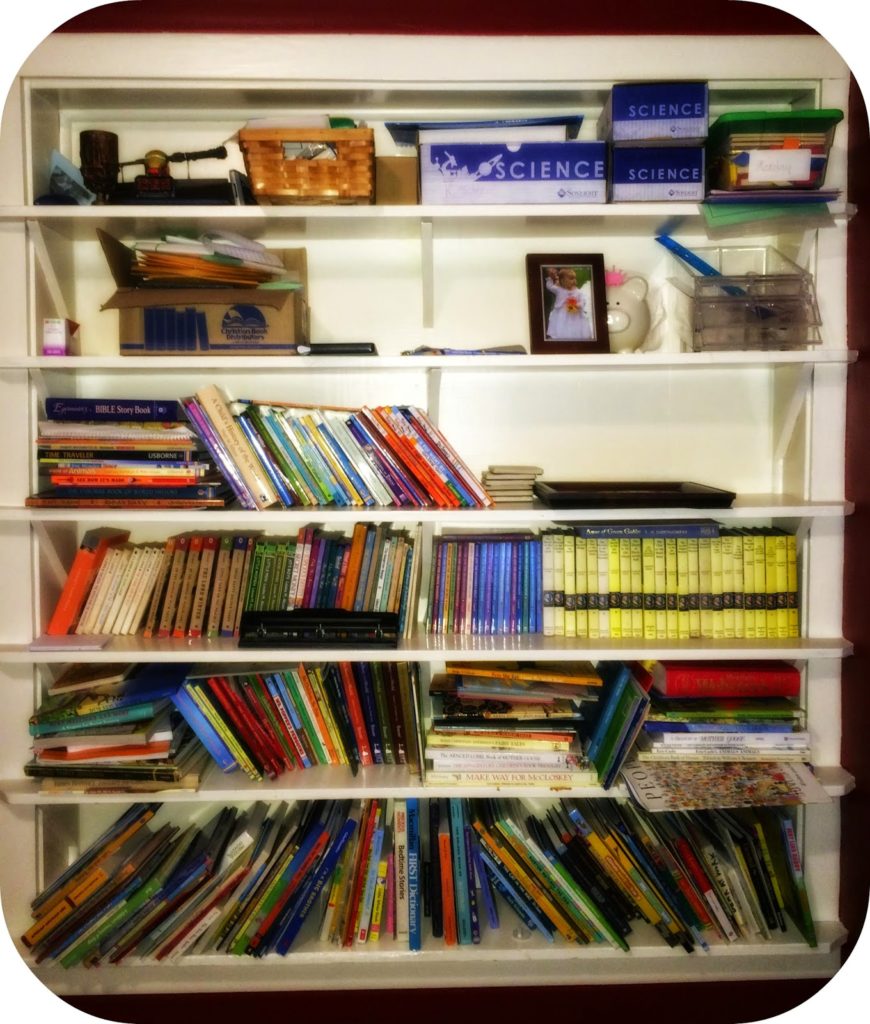 We started back to homeschooling yesterday, and while it went amazingly well (I was definitely concerned about a certain little baby), I was having trouble finding the books that I wanted quickly. Add to that the fact that we are expecting another very large box of books in the mail this week, and I need to take some time to take the books off the shelves, and figure out a new way to organize them.


The beautiful built in shelves that we have are not organized well at all. I will blame that on letting the kids have free reign to take books down and put them back as they please.


If they want to read a book, I don't want to stop them!


These shelves hold most of the kids' books. I won't pretend that we don't have a bunch of other books stuffed all about the house. In fact, all the kitchen cupboards in the second kitchen are stuffed full of books, as well as more book shelves upstairs…and yes even just random stacks of books in the office.


I need to come up with some way to catalog all of these books and have them organized in some way besides curriculum books, college text books, other books. Plus, as the kids get older, I want them to learn how to categorize and put books away in an organized manner.


If you are thinking that I should probably downsize my book collection…well…I have. It didn't do a whole lot of good. And now that we have a new little one in the house, I am glad I never got rid of the earlier age books that we will need in the future!


How do you organize your books? Do you primarily use your library? Do you frequently purge books you aren't currently using?