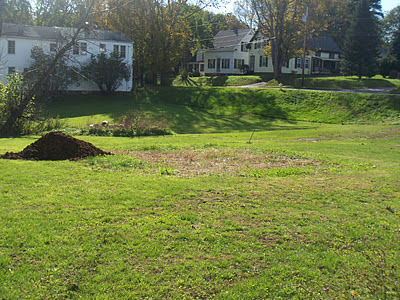 What beautiful weather we have had in Maine this past weekend! 80's and sunny on Saturday and Sunday. I can't complain about it one bit! The fact that it isn't muggy, well that makes me even happier 🙂 Plus, it warms up our house so that I do not have to worry about heat. It looks like it will be warm most of the week as well, and that is a good thing!
This past weekend we spent time closing up the garden. We have a great source of horse s***, and were able to get a truck full of it. I am planning on doing some lasagna gardening, or sheet mulching I guess it can also be called, this fall. It seems like an excellent way to build up the soil for next spring, and relatively easy too. I am all about easy 🙂
First, I am taking the large stack of newspapers I have been saving and laying them out on the garden, water them down. Then I will fork the manure on top of the newspapers, and finally rake up the leaves down at my mom's and throw them on top of the manure. Hopefully by spring this big pile of mess will be nice soil that I can dig right into and plant my veggies. Oh, and when I say *I* I really mean the husband. I wrangle the kids, he does the manual labor, I think it is a fair trade!
Does anyone have experience with this gardening method? I believe it is supposed to suppress weeds, and anything that does that is a big ol' plus in my book!
Linking up to the Homestead Barn Hop