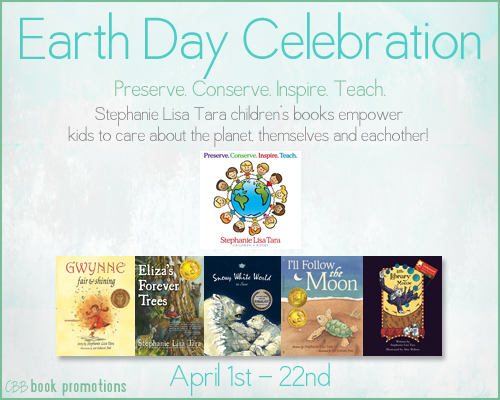 I have spoken before about how important it is to teach my children to be good stewards of God's creation. Well, it is amazing when you can utilize others' gifts in order to help with that goal! Stephanie Lisa Tara is a children's author who writes books that help teach kids about the environment. I was given the opportunity to review some of these wonderful books, and I have to say that my kids really enjoyed the beautiful artwork and the way the books were written.
I'll Follow the Moon is an adorable story of the journey of a baby turtle from hatching to finding his mama. Emma loved this story, and told me her favorite part was when he found his mama after traveling so far. I had no idea that baby turtles used the moonlight to find the sea, and thought it was an added bonus that this turtle was also seeking his mama.
Snowy White World to Save is a story that follows a polar bear family as they look for food. Unfortunately, due to the melting of the ice, it is becoming more and more difficult for polar bears to find their food. This book also includes a kid friendly resource guide. Emma doesn't quite understand global warming, being very concerned that the polar bears are able to stay warm and still find food, but it is still an interesting story that gets kids asking questions.
Gwynne, Fair & Shining is a fun story about a little servant girl who believes that magic comes from the hearth of the fireplace. She continues to dream of this music, which eventually comes to her. Because she believes in herself, she is able to become the princess she is on the inside. Emma loved that she played music and that she turned into a princess (my daughter is all about princesses!). It was a wonderful reminder that even though there are people that can be negative in our lives, as long as we believe in ourselves, we can be happy.
Little Library Mouse was definitely my favorite. About a library mouse who imagines himself in all the different stories in the library after the librarian leaves for the evening. I think it is important to let our children use their imaginations, especially in a society that is now full of so much instant gratification and digital media. And it is a good reminder to parents to allow their children the freedom to create and imagine. Emma liked to see the little mouse change into different characters throughout the book.
A little bit about the author in her own words:
I've always believed that magic hides in special places. As a child, people would often stare at my bright red hair, which was very, very bright indeed.


Unfortunately, I developed a bad habit of making up rhymes about all of them, and they soon became funny characters. I didn't have much time to think about being different; fanciful lyricism danced in my head, and no one was safe!


Since then, I've come to believe that storytelling has the power to inspire a deep love of language and learning. Words tripping off the tongue in somersaults that stick to your thoughts like taffy – those are the things that stay forever in the mind.


I've lived in many special places: on a farm, in a city skyscraper, on a tropical beach, and in the beautiful country of France. Now I live in northern California, between the redwood forests and the sea. Even though I'm an adult, I'm as silly as ever.


Many nice words have been used to describe my books, such as fun, engaging, delightful, and whimsical. Some folks say that I deliver timeless messages of love for kids and parents to share again and again; this makes me very happy. I hope that you'll enjoy my stories, too. Captivating children with language is something that I believe in, and I strive to live my life with this always.


Find out more on Facebook, Amazon and her website.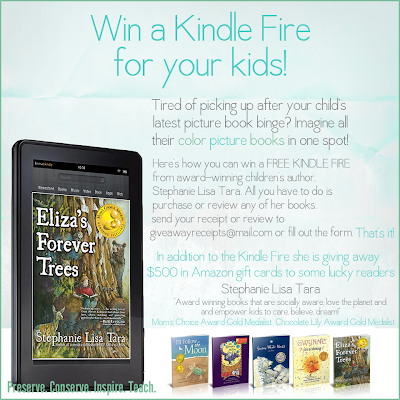 Now for the giveaway! Stephanie Lisa Tara is giving away a Kindle Fire and Amazon giftcards! You can find out all about this giveaway at the official Blog Tour page. And then you can enter using the rafflecopters below!