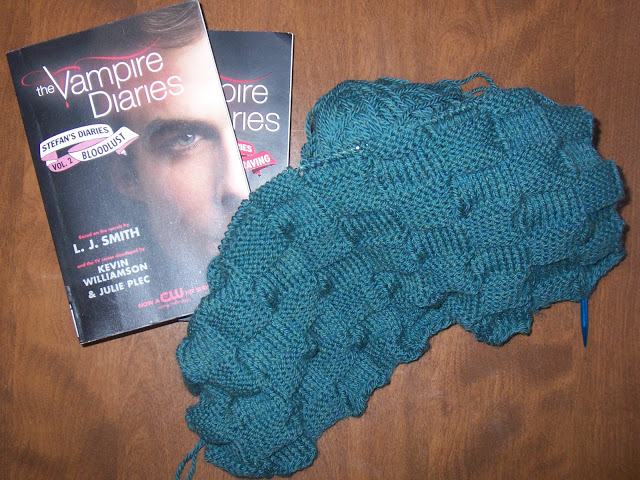 As you can see, I am still working on her dress. I haven't made as much progress as I had hoped this past week, but that's ok. As long as I have it done by her birthday (in May) I will be happy. She is really excited for me to finish it, and constantly asks why I am not working on it. Mainly when she sees me working on Jack's socks…or some dish rags…or my mom's table runner…or any of the other projects I seem to have going. It has been fun to work on the simple basketweave pattern though, it is my favorite pattern right now. And something simple that I can fix if I mess up – I seem to need that lately!
My reading…well I have shared in the past my love for teen fantasy…
Harry Potter
…
Twilight
…and most recently
Vampire Diaries
. I started reading the original Vampire Diaries books last fall (after I realized that the series was based on books that were written pre-twilight). More recently, I found out that there is an entirely new set of books called
Stefan's Diaries
– cheesy? absolutely. It is loosely based on the books, but moreso on the tv series, and the history of Stefan Salvatore. They are extremely quick reads, I have read the
first two
books, and am starting
book three
right now. Love this easy teen reading. Plus, since I watch the show, it is kind of nice to see how everything came to be. And since it is being written by the creators of the tv show, it lines right up with the characters…which is totally
not
like the original books – if that makes any sense.
I am also enjoying mindless television, has anybody been watching the crazy drama on
Biggest Loser
? And of course catching up on trashy new 90210 while setting my DVR to see if I can get the entire series of original 90210 on the soap channel. Yes, it is a lot of garbage, but it is light and enjoyable, and allows me to knit Emma's dress with relative ease.
Joining up at the wonderful
yarn along
! If you are new here, I would love it if you would follow me! Happy Wednesday!