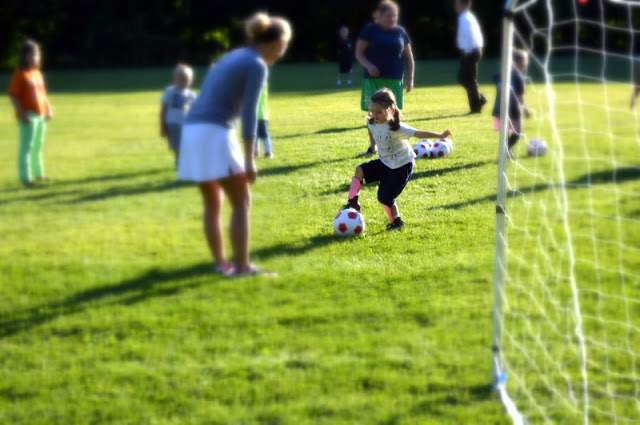 We have entered into team sports this year! Last night Emma started soccer. She has been so incredibly excited to play soccer since we found out she could a couple of months ago. As someone who never really played sports, it is a little out of my element. But seeing her excitement about it all is something else!
When we arrived, there were 3 other teams besides ours. It was a little chaotic to see all of those little kids trying to kick soccer balls around on a very open field. Once we got over the confusion and figured out where our team was, it was better. I wish that Jack had met the cut off age to start, because there was another little team of 3 year old boys playing soccer right next to Emma's team. Unfortunately, his birthday was a month past the deadline. Although, after he realized he could use the playground equipment relatively uninterrupted, he was a happy camper.
I didn't realize the commitment we were making either. I knew that we would be committed to practices and games, but I didn't realize the scope of such things I guess. So we are going to be busy for an hour practice every week, and then games every Saturday through October 19th! Add to this that she will also start cheering in the next few weeks…well…I am slightly overwhelmed!
As "official" homeschoolers now, we figured that involving her in some group activities would be a benefit. And I think that she is going to have a blast! Although, I may need to incorporate more coffee into my life with all the running around we will be doing. All of the mama's that have been doing this for years, I commend you! Seeing her at the end of her practice, and having her ask if she can come back tomorrow to play again, well that made this mama one happy lady.
Are your kids starting any new activities this year?