I finally started my tomato seeds this weekend. I figured it was time. I keep hoping for spring every single week, but for some reason this keeps on happening: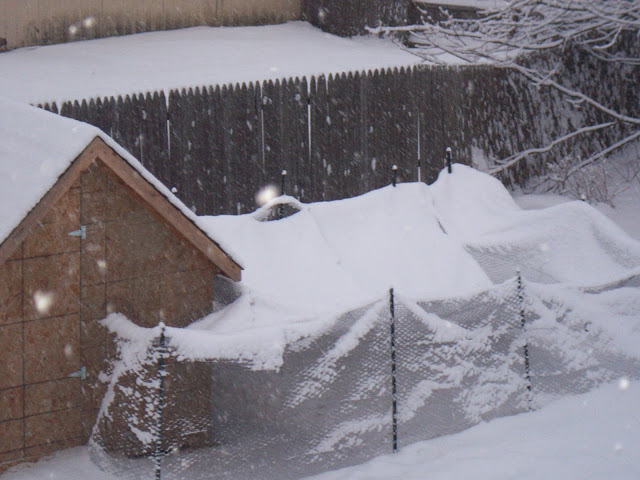 the top of the chicken fence caving in
I actually find it really entertaining (in a twisted sort of way) that I am so upset about the snow. I mean, I do live in Maine, it is pretty much inevitable that it will snow in February. However, I think the past few years have really shifted my thinking about what winter is like.
Last year we had some extremely warm temps way before winter is typically done in my part of the country. I was planting peas early, like the first week in March. My gardens were cleaned out, and I only had a teeny tiny bit of snow left in the shaded parts of our yard. It was similar the year before. Lots of warm temps, and very little snow.
This year, it seems, winter is hanging on. But, there are some positives to having snow and cold and not too many warm weeks. The snow gives the ground a good amount of moisture, which helps the apple trees. If the temperature gets warm for an extended period of time, the apple trees wake up from their winter slumber and start budding. Of course we always get another freeze before spring really arrives, which means the apple trees don't do as well. Budding, then dying off, and then trying to bud again isn't the best for this fruit, or any plant I would imagine!
Back to my tomatoes. I started 36 tomato plants. 9 each of:
Amish Paste
Roma
Pink Berkeley Tie Dye
Pantano Romanesco
Do I need 36 tomato plants? Well, of course I do! Doesn't everyone plant that many tomato plants?! Honestly, I doubt that my seeds will take off spectacularly. I know that tomatoes are hard to start indoors, and that is why I planted so many seeds. I think that if I can get half of each type to grow from seed, I will be incredibly excited. Heck, if I can grow one tomato plant from seed I will be over the moon! And if all 36 plants take off, well, I will open a roadside stand and sell seedlings to my neighbors (along with eggs if my chickens keep their production up!
Spring fever has officially set in. Now, if only spring would hurry up and get here!
Linking up with the Homestead Barn Hop, Clever Chicks