When we bought our house almost ten years ago (has it been
that long?!), I knew one of the first things I wanted to do was plant a
garden. Growing up, my mom always had a
huge garden, and I wanted my kids to have similar memories, as well as
understand where our food comes from.
The next summer, we expanded our garden into the actual
ground. And I soon realized that I
wanted to add rhubarb to our garden.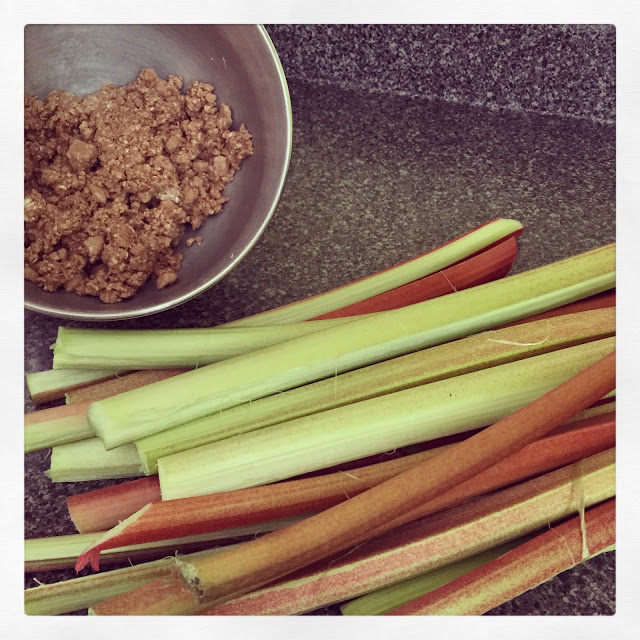 Rhubarb is a perennial.
What that means is that it keeps coming up year after year. Anytime I can plant something once and have
it continue to come back and give delicious fruit – that is a plus in my
gardening book!
We had some friends separating out her rhubarb plants, and
she graciously gave us three plants to put in our garden. They didn't produce much that first year, but
all the years since it has given us tons of rhubarb!
Rhubarb is actually a vegetable, but is typically treated as
a fruit. The stalks are red and green,
and tart as anything, but they make some amazing desserts and baked goods. My brother and I used to cut the stalks and
dip them in sugar to eat raw, which my kids also love to do.
Rhubarb is also the first edible thing that grows in my
garden – besides the dandelions.
This week I decided I wanted to cut some rhubarb and make
something. I had intended to make a rhubarb custard pie which is my favorite, but I didn't have the energy to make
a pie crust, so instead I made rhubarb crisp.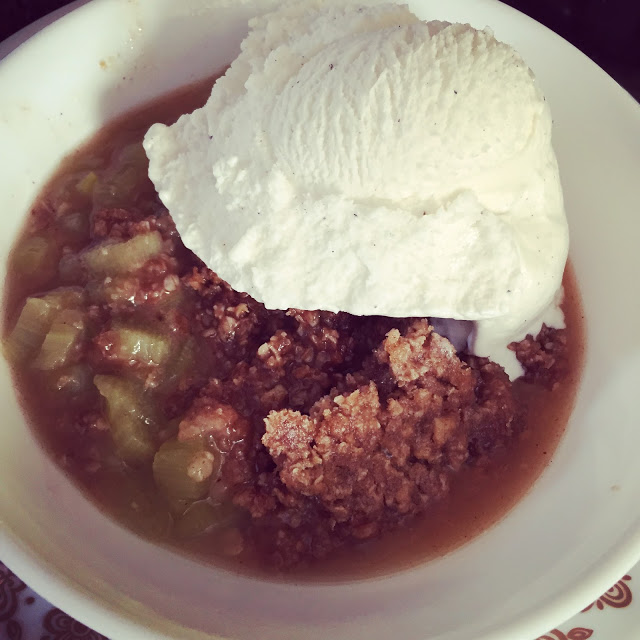 It was absolutely delicious!
I may have made extra crisp to go on the top, but that is totally OK,
right?!
I was a little overzealous in the rhubarb cutting, and have
about 6 cups of extra cut up rhubarb, so today I will be getting to that pie,
and most likely making a rhubarb coffee cake as well.
Once the initial desire of sweet and tart rhubarb treats is
over, I will start canning the rhubarb.
It is super easy, chop, add some sugar, put in a boiling water bath
canner, and save for the middle of winter when you want a taste of spring!
As long as I stay ahead of the seed stalks (cutting those as
soon as I see them), the rhubarb will continue to produce delicious, tart
stalks right through July.
Have you ever had
rhubarb before? Do you grow it in your
garden?