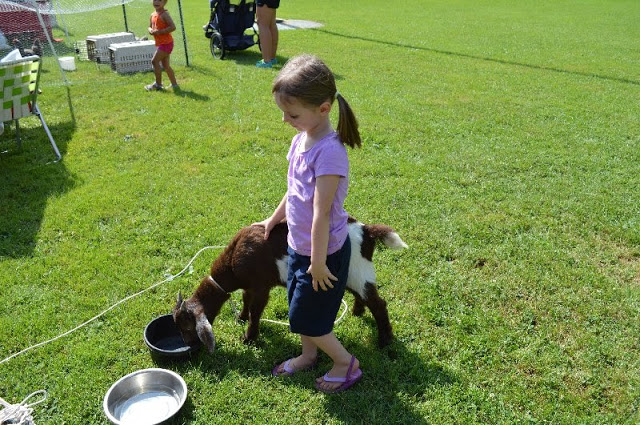 We are lucky to have a great farmers' market in our area. I often forget that it isn't something everyone has, and I am extremely grateful for it! Our market runs every Wednesday from May 1st through the end of October, and then the winter market runs twice each month November through April. I love that they sell pretty much anything you could ask for as far food goes. They have all the veggies you could ask for, chicken/beef/pork, shellfish (this is Maine after all!), and then there are the desserts…too numerous to name them all!
Yesterday was their Family Farm Festival. It was such a great time! There were a lot of different animals for the
kids to play with. Emma's favorite was
this little goat above! It was kind of
funny because the goat was just out walking around in the grass, and there was
a little dog that was in a fenced off area right next to the goat.
We were having such a great time going to visit all the
different animals and planting seeds as well as playing "find the farmer" that
I totally forgot I was there to do some shopping as well! Unfortunately, but the time I remembered that
I wanted lettuce, all the farmers had sold out of it. I was able to get some zucchini and summer
squash though – which I can't seem to grow for the life of me! I also bought some blueberries, although
those were gone before we even left the park.
The kids were able to spend the rest of the afternoon at the
playground adjacent to the farmers' market.
They had a great time, and everyone was completely wiped out by the time
we got home – my kind of afternoon!
Does your town have a
farmers' market that you go to? Are you
in an area that doesn't have a lot of fresh and local foods available? Are you in one of the "food desert" areas
that are often in the news?
Linking up at the Homestead Barn Hop and Clever Chicks