There are affiliate links in this post. If you make a purchase after clicking one of these links, I may receive a small commission. Thank you for supporting Townsend House!


Well look at that, here we are already in week 7…and I haven't
done a garden tour since week 2. We have
been so busy enjoying the summer that I haven't had as much of a chance to get
to writing. So
we will do a mid-July post and see where the rest of the summer takes us!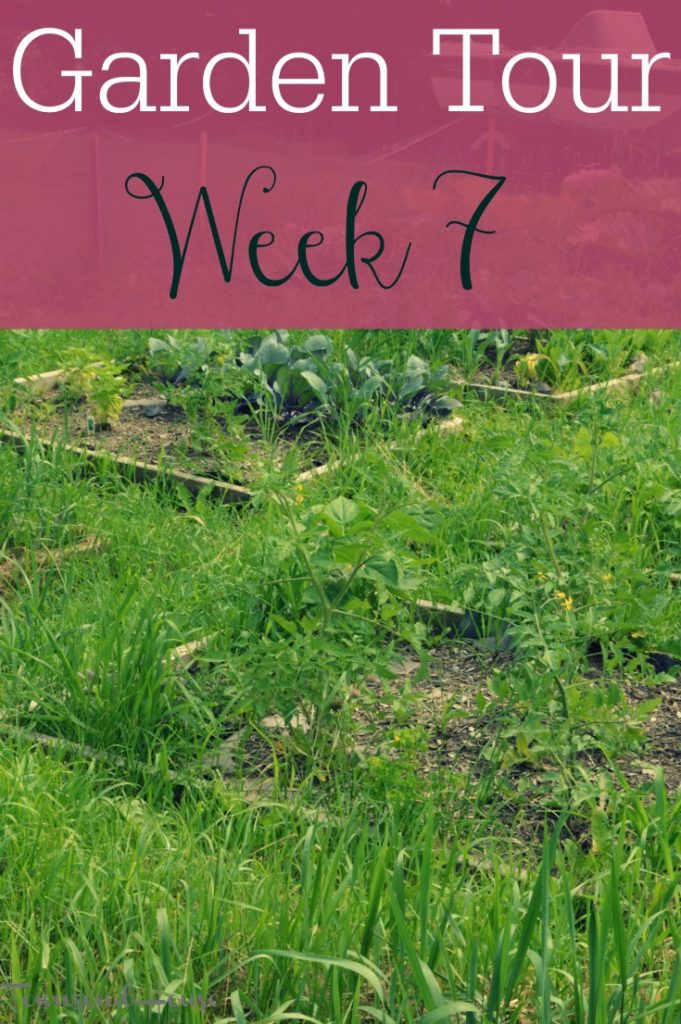 The garden is doing quite well, being in Maine, and because
I tend to plant warmer weather plants, we don't have a whole lot of picking
going on. There is the lettuce and the
radishes, and there is some kale as well.
Whatever kind of bug that had been eating all the leaves of the kale
seems to have finally had their fill, and is now letting the new leaves
be. I will be able to have some green
smoothies from the garden soon!
Thankfully the kale will continue to produce well into the fall.
My tomatoes are doing really well, and I am happy about that
considering tomatoes are my most favorite fruit/vegetable to grow in the
garden. There is nothing like a garden
fresh tomato – yum! There are a lot of
little green cherry tomatoes, and some of my Romas are starting to get big as
well.
Unfortunately my peppers are doing horrible and will not
produce anything this year. I always
plant some in my garden beds, but they never actually grow. Yet I continue to do it year after year,
always hoping something will change!
Typically I have my pots to make up the difference of what
is not producing in the garden, unfortunately this year I never got to plant my
pots, so no peppers from our garden this year.
Thankfully I can buy them in bulk from a farm close by, and throw themin the freezer for the winter.
My cucumber plants are growing well, despite the little
cucumber beetles that inevitably show up every year. I need to get some diatomaceous earth to
spread around the plants to help combat them.
Also, good ol' bug squishing is in order, and since these are pretty
tiny, I no longer am grossed out about it – squash bugs are another thing
entirely…too big to even touch, yuck!
My beets also seem to be growing well. Lettuce is still coming in too – it is nice
to be able to get outside and pick my lunch from the garden! It always amazes me how much we actually do
get from this little garden of mine, even after all the bugs and other pests
come to take their share first.
What vegetables are
you seeing in your garden or Farmers' Market these days?