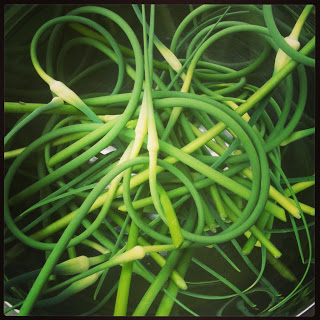 Can you believe it is July 1st? I certainly cannot. I know I say it frequently enough, but time is flying by! This week on the front of one of my magazines was the headline "back to school shopping" and I was about ready to put it back in my mailbox for another couple of months!
Because it is now July, I decided I should go out and cut my garlic scapes. Garlic scapes are the flower stalks of the hardneck garlic plants. The reason you cut them is so that the plant concentrates on growing the bulb, instead of the flower. If you let the flower grow, you can eventually plant that for garlic. However, I find that it is much easier to just plant the garlic cloves in the fall instead of bothering with the flower.
I think (and please correct me if I am wrong!) that the softneck varieties of garlic do not have a scape. I have no clue why. I grow the hardneck variety because that is what I have always received from our CSA share. So in the fall, I take the extra garlic that I have been given and plant it. Since we are not in a CSA this year I am hoping to have enough garlic to replant in the fall…not sure I planted enough last fall. The hardneck varieties seem to be better suited for our cold long winters as well.
I recently read that a lot of people just discard their garlic scapes in the trash or compost pile. I was very surprised! Although, I guess the first time I got garlic scapes in my CSA share I was not sure what to do with them. If you get garlic scapes, either from your own plants or from a CSA or farmers' market, don't throw them away!
They work very much the same as the garlic cloves. I find that they are a little milder than the garlic cloves. Some ideas, in case you need some, are to make garlic scape pesto. Just chop up the garlic scapes and throw them in a food processor with some basil, nuts (I use walnuts or pine nuts, my brother recently used pistachios and loved it) and olive oil. You can chop them up and use them in stir fry – which I demonstrated last week for what i am eating. My other favorite way is to throw them on the grill. They are delicious this way!
Do you grow your own garlic? Have you tried garlic scapes before? Have you seen them around but had no clue what they were so passed on them?


Linking up at the Homestead Barn Hop Clever Chicks, Mommy Club, whatever wednesday, From the Farm