I participated in a Influencer Activation on behalf of Influence Central for
First
Response
. I received product samples as well as a promotional item to thank me for my participation.
Making the decision to have a baby is an incredibly exciting
time for any couple. I know that when
Matt and I decided that we wanted to try for number three I was nervous and
happy and I really didn't know what would happen. There is something about drawing that line in
the sand…and then waiting…and waiting…and waiting.
Waiting to find out whether or not you are pregnant probably
feels about as long as that last month of pregnancy! The stress and anxiety (both of which are not
good for pregnant mamas!) seems to immediately be upon you as soon as you make
the decision to have a baby.
And then you know you want to take the test, as soon as
possible, admit it.
I have always used First Response pregnancy tests. The reason?
Well it says right on the box that it can detect 6 days sooner than your missed period. Who wouldn't want that?!
I remember with my last pregnancy – OK all three of my
pregnancies – I bought a ton of tests, and just kept taking them, even when I
knew that it was 99% accurate. I wanted
to double check, and then to make totally sure.

Like I said, the waiting to find out whether or not we were
pregnant was the hardest thing for me. I
am not a patient person, so having the test able to tell me so much earlier is
great in my eyes. Of course, I didn't
just take the first one, I proceeded to use them all up in the 6 days before;
you can never be too sure about these things!
Also, am I the only one that doesn't wait the entire 3 minutes to look
at the test? I just take the test and
stare at it…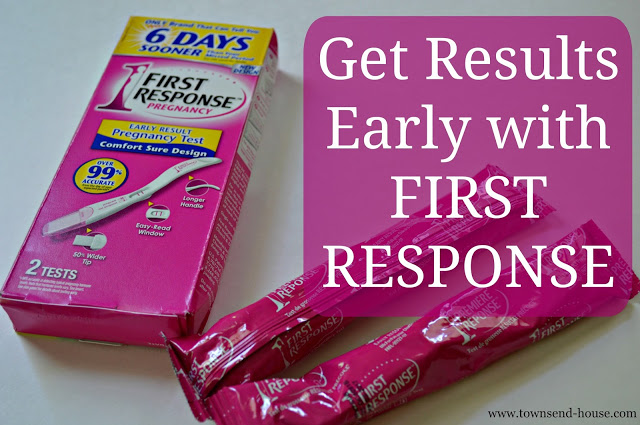 I was really excited to see that First Response has redesigned
their advanced Early Detection Pregnancy Test.
I love that it is curved now with a longer handle. I wish someone had thought of this
sooner. I mean, it isn't exactly fun
trying to pee on this little stick without making a mess. They also thought to widen the tip by 50%,
which makes not missing easier as well.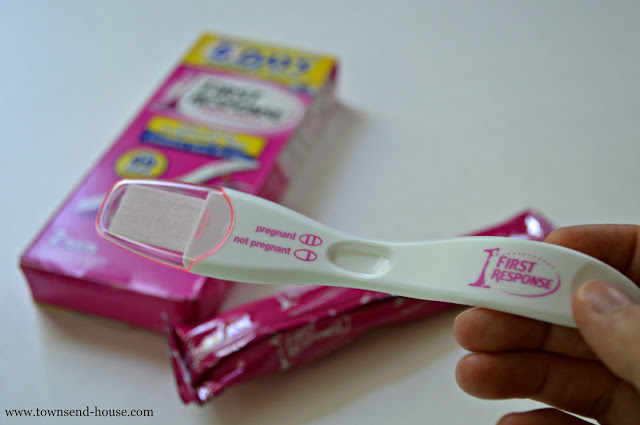 It is designed to detect all relevant forms of hCG
throughout pregnancy, so using at any time of day isn't a problem, meaning you
don't have to remember to take it first thing in the morning as soon as you
wake up, before you have coffee.
When the test is negative, it can be a bit of a
letdown. I know that now, with the three
we have, I feel like my family is complete, but it is a little sad to think
that I probably won't see those two pink lines in the future.
You can find First Response at all major
drugstores and grocery stores.
How did you tell your
husband you were pregnant? Did you start
taking pregnancy tests as soon as you could?