Here we are, in the first full week of April! Can you believe it? I certainly cannot. Although, since I am pretty sure I said that
at the beginning of March and also February, well I should probably start
accepting it a little more.
Last month was all about de-cluttering for me. This month, I am moving towards spring
cleaning!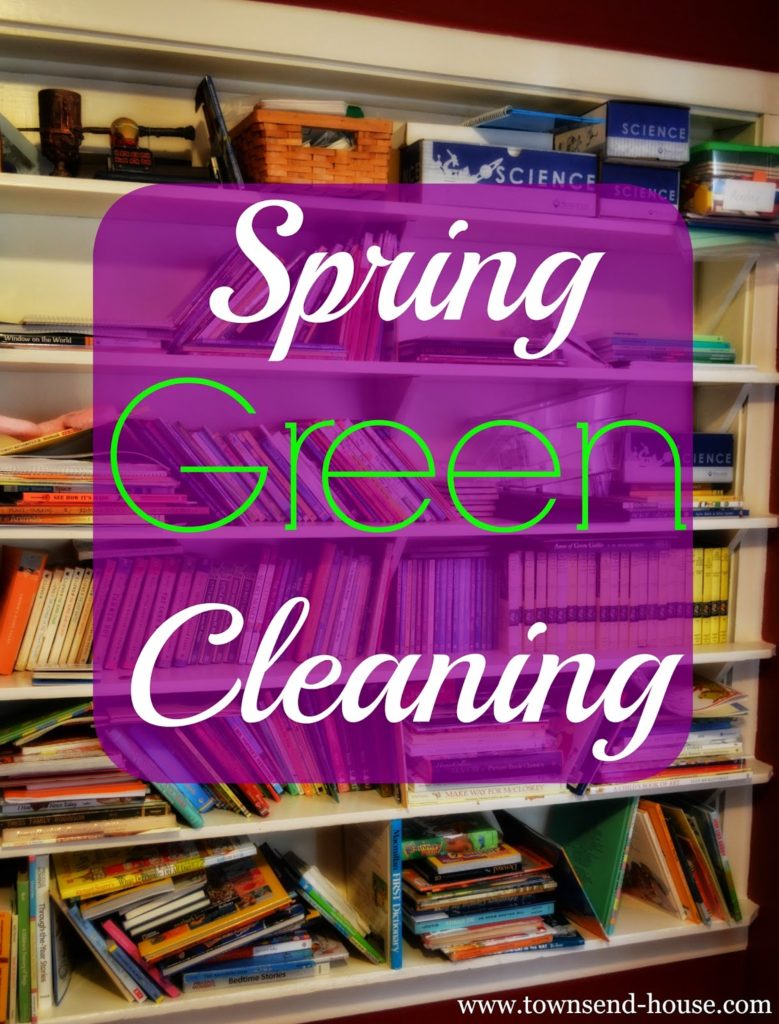 De-cluttering before spring cleaning is helpful for me. With only those items I
feel have beauty or are useful in some way, I am able to look at my home in a way to make what we have work.
It might seem like a really long time – a month
– to de-clutter or to do spring cleaning, but with three children and
homeschooling, I will be happy to have the spring cleaning done in the actual
spring season
Books, books and more books!
I have some bigger projects I want to get done, mainly our
office, which has become a storage room.
Even though I de-cluttered the house, there are still some items that we
are keeping that need to find a home – books, piles and piles of books. That home right now is the office. I plan to do my quarterly re-arranging of
furniture to make my home feel like I am using it the best way it can be. I also need to look into some more storage
solutions. With the above mentioned
books I think some new shelving is in order.

Between my books and the kids' school books, we have a lot
of books! While I try to get rid of
books that we are no longer using, there are a lot of books that I like to
return to year after year. I know I will
never get rid of them, and they need to be put away properly. I keep lobbying for a library in our home;
perhaps fitting the office with new shelves will help that along!
Make your spring cleaning healthy for everyone!
One of the harder parts about spring cleaning is the cleaners
we use to clean our homes. These
cleaners have so many warnings; I often don't want to even touch the bottle. Several years ago I tried to rid my home of
most of these cleaners because of their toxic nature.
That does not mean that I stopped cleaning my
home, it does mean that I needed to find an alternative.
While there are many green cleaning options available these
days, I find that making my own cleaners is a cost effective way to decrease
the amount of chemicals in my home.
That being said, I have a lot of empty bottles that need to
be re-filled! I love to make my own
cleaners – they are non-toxic and mean
that my children can help with the cleaning.
Any help I can get is welcome! I
hope to share some of the recipes I use over the next few weeks to help you with
your spring cleaning as well.
Gardening and outside the home.
We still have snow on the ground, unfortunately, and my
garden is a complete mess. I hope that
over the next few weeks the snow will completely disappear and I can get started
on outside spring cleanup – it is probably my favorite spring chore. Raking out the gardens and seeing my day
lilies start to come up out of the ground makes me so happy!
The kids started some tomato and sweet pepper seeds
yesterday, but I know I want to start a few more things to go out into the
ground in just two short months. Figuring
out which seeds I want to buy is on my to-do list for the week; also a trip to
the greenhouse.
While I left for church in the middle of a huge snow squall
yesterday morning, I know that spring and summer are coming, and when that warm
weather is here, I want to be able to have my house clean so we can stay
outside all the live long day!
Have you finished
de-cluttering in preparation for spring cleaning? Do you combine the two? What are some of your favorite spring chores?