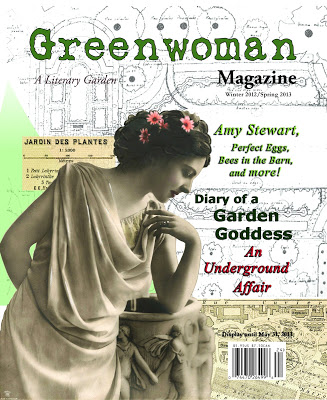 I love a good magazine! Something that I can read through an article at a time, at my leisure. Unfortunately, a lot of the magazines out today are more about advertising than actual content. Enter
Greenwoman Magazine.
A magazine that is definitely written for me! Gardening, yes! Fiction, yes! Commentary, absolutely! Greenwoman is exactly what I was looking for.
A smart magazine is an absolute must in my book. With the amount of information floating around all over the place, you want something that is well written, and can challenge you. The articles are extremely well written, and the stories are inspiring. It is a breath of fresh air in the never-ending news cycle that surrounds us.
Greenwoman is a completely independent, one-woman owned and run publication. It mixes wonderful articles with beautiful art work and is such a treat to sit down with. Especially as I am dreaming of the spring gardens that I am going to plant (as soon as the snow decides to stop falling from the sky!).
"Greenwoman Magazine celebrates garden writing in all its forms: fiction, creative nonfiction, poetry, commentary, biography, art, and comics! Daring and fun, Greenwoman is for the hip gardener who loves digging into the world of art and environmental thought that underlies gardening."
And for you my lucky readers, the editor is offering up one copy of their latest issue, the Winter 2012/ Spring 2013 issue. I have to tell you that you will not be disappointed when you subscribe! Just enter using the rafflecopter below. Good luck!
I received a copy of Greenwoman Magazine for purposes of a blog tour review. The opinions are my own.


Linking up at Giveaway Day