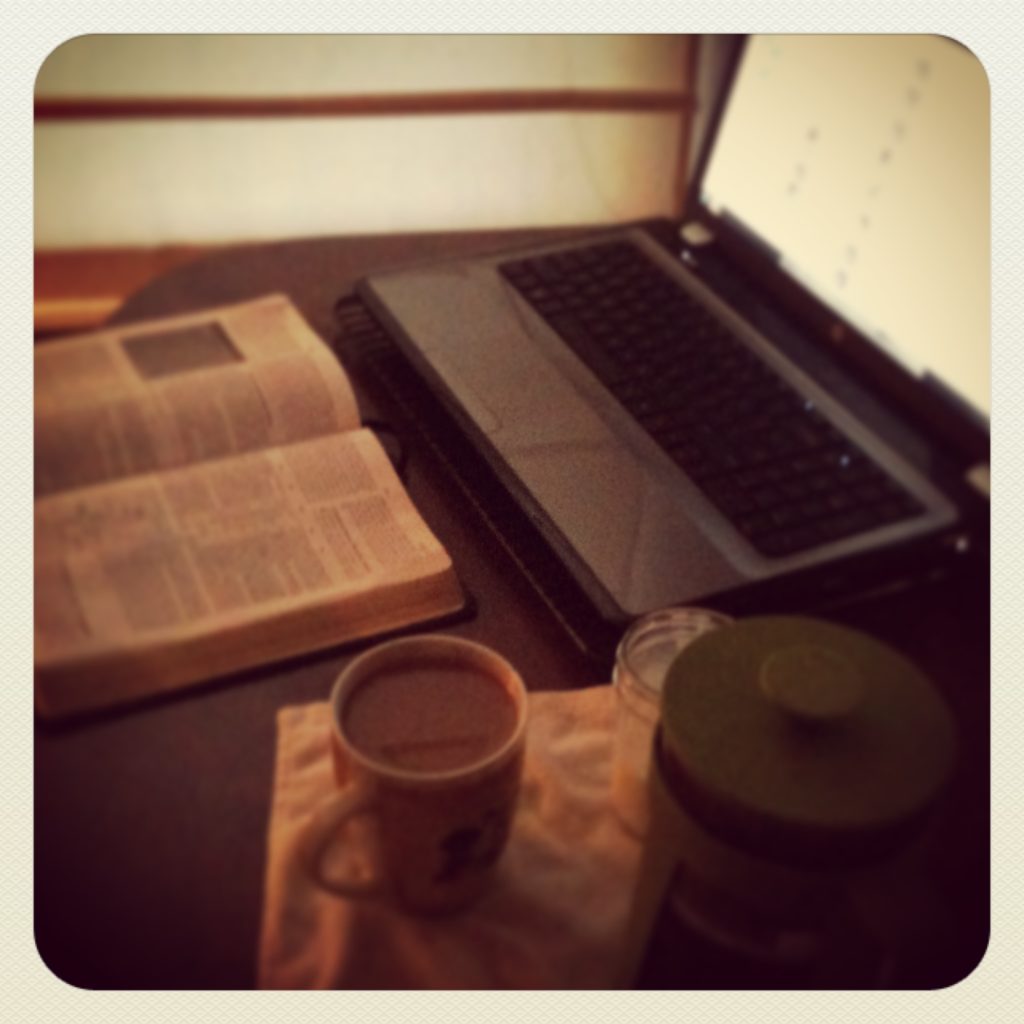 How are you at waking up before your kids in the morning? I am successful some of the time, but not all of the time. My kids are early risers – 6:30am and they are awake for the day! We put them to bed at 7pm every night now – this is a newish change, as in it started right around Thanksgiving last year. I know what you are thinking, why don't you put them to bed later?! Well, we have tried that, and have figured out that when they go to bed later than 7:15, they wake up between 5-5:30am for the day. So 7pm it is!
I'm not really here to write about my kids' bedtime routine though! I want to talk about my morning routine. I have talked about it before here, but I wanted to talk a bit about how it has changed.
I am still doing the very cool Hello Mornings challenge. If you haven't heard of it, you should look into it! We are in week six of the summer session right now and let me tell you, it has been a complete blessing to me.
The gist of the challenge is to wake up before your children to have quiet time, plan your day, and incorporate some exercise before the chaos of the morning ensues. The point is to not be a bear to your children in the morning.
Now, do I always have a big chunk of time in the morning to do all of the above? Absolutely not! And I have to say that it was entirely discouraging for a long time. Here I am waking up before the sun comes up, looking for some quiet time to center myself before the craziness starts, and a babe wakes up 10 minutes after I get out of bed.
But, in the past several months, things have been turning around for me and my attitude in the morning. I think a large part of it is because of the wonderful group of women I *meet* with each morning to check in with. Oh, did I not mention that? When you join the challenge, you sign up for a group to participate with. They are your support system and everyone checks in and checks on each other. It is extremely encouraging to get a "good morning!" from someone that early, don't ask me why, it makes me smile!
Not to say that my previous groups were not wonderful as well, but this group is a lot more involved than the previous groups, even the one that I created myself! I realized that even having 10 minutes to myself in the morning was enough for me to take a breath and be thankful for a new day. The biggest change to my morning routine is giving myself the grace to not be perfect about it.
My mornings still start extremely early – I aim to be out of bed by 4:45am, crazy but it seems to be the best time to sneak downstairs with no one the wiser. It doesn't always happen, and I give myself a lot of leniency, especially if we have a teething child or someone goes to bed late (ie me when I am reading a new book). I have been doing this now since September of 2011, and it has become much more routine for me.
I would love to say that I participate in all three areas, but mainly I incorporate the quiet time and the planning of my day with my planning pages. Sometimes during the spring and summer months I can get out for a walk in the morning, but that is rare. Maybe next challenge session I will try to work on the exercise portion!
Do you have a special morning routine to get ready for your day? Have you participated in Hello Mornings before? Is it something you would be interested in doing in the fall?