This is a sponsored post in partnership with U.S. Cellular. All opinions are my own.
Are you still doing a bit of Christmas shopping? I know that I am! I tend to wait until the last minute, which means that I am so happy to know how easy it is to shop from my iPhone! In fact, I do more shopping from my iPhone than my actual computer these days.
According to U.S. Cellular's annual consumer survey, nearly 60% of smartphone users have shopped online from their phones.
Smartphones give us the opportunity to do holiday shopping any and everywhere. You are able to research the best prices, research the best gifts to give, and making the final purchase.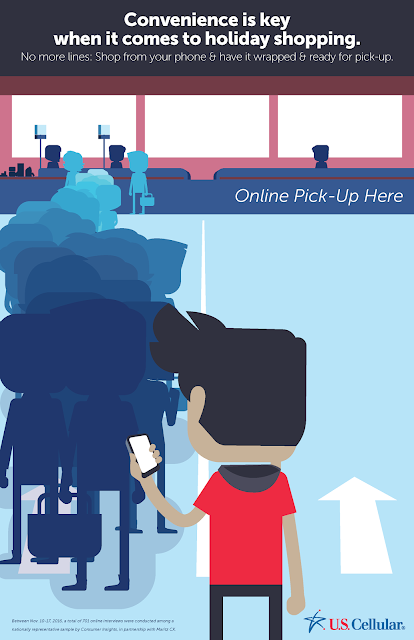 Make the most of your holiday shopping and beyond.
Research before purchasing – Gone are the days of thumbing through thick catalogs for
ideas. Smartphones make researching online and accessing customer reviews easy
while on-the-go. Many apps offer rich visuals, videos and content for
brainstorming. For example, YouTube gift guides are a popular and effective way
to get quick ideas, Amazon has millions of product reviews, or users can search
and create gift idea lists on Pinterest.
Avoid long check out lines – The mobility of smartphones is one of their key benefits.
Many consumers want to physically see and touch what they're going to purchase,
so visit stores to find a product, but actually make the purchase online to
avoid long check-out lines. Many stores even allow for an item to be purchased
online then picked up at the store for free, which is perfect for those last minute gifts!
Keep great lists – Nearly 70 percent of people are totally undecided or
considering multiple gift options when starting holiday shopping, according to
a 2016 Google Consumer Survey. To be more organized while out browsing, utilize
the notes feature on your device or take photos of what you want to purchase
for a loved one.
Keep cybersecurity in mind – It's estimated that 64 percent of smartphone owners use
their phone to manage finances once a month or more, according to U.S.
Cellular's consumer survey. Smartphone users should ensure phone security by
using secure passwords, using familiar and secure websites and being wary when
using public Wi-Fi to conduct holiday shopping online.
What is the gift you are most looking forward to giving this holiday season?
¹ Between Nov. 10-17, 2016, a total of 701
online interviews were conducted among a nationally representative sample by
Consumer Insights, in partnership with Maritz CX.