I have wanted to update my home binder for quite some time
now. I keep saying that I am going to do
it, and then I remember that I have a little baby and two older ones whom I want
to spend my time with instead. However,
now that the dust has settled a bit and we are making our way into a new
routine, I figured it would be the perfect time to update it.
If you think that I have already completed this project, you
would be mistaken. I am writing this
update in real time!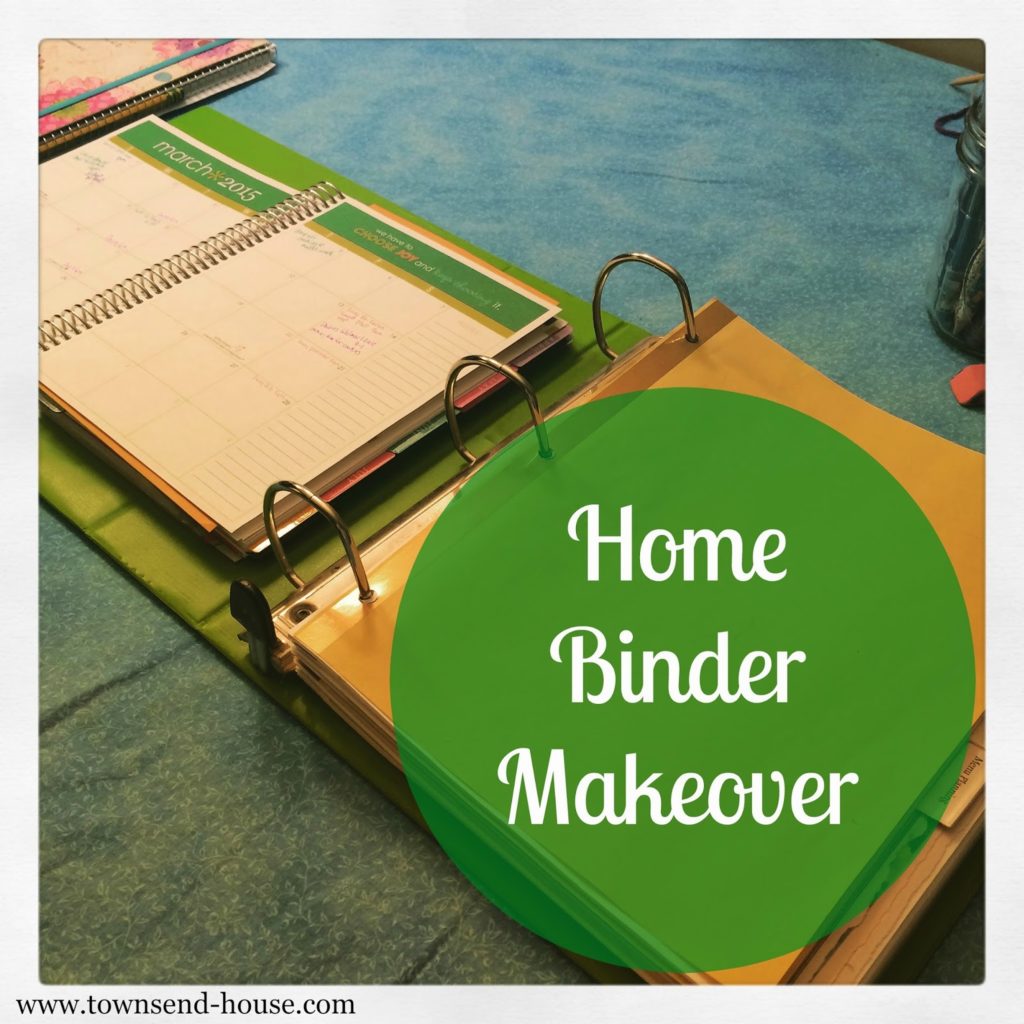 First, you need supplies.
I use a three inch binder. I like
that it is large so I have plenty of space to put more paper in. As long as the paper is organized, I am happy
to have it in my life! I also have tab
pages to separate out each category, or section, that I am using. I like to include pocket folders as well, to
hold things like recipes and other pages I might take from magazines. Lined paper and printer paper are the last
two big items that I need. I print out a
lot of pages for the binder, and I also like to have loose leaf paper available
for me to jot down whatever I need.
I am starting to think about what categories I need in my
home binder. My previous home binder had
a lot of categories – one of which was coupons, and I do not use coupons, so
that will be deleted! I don't want the
binder to be overwhelming. It needs to
function well and not be intimidating.
If there is too much
information, no matter how well it is laid out and put together, it will not be
used.
The categories that I have come up with are as follows:
I use the daily planning sheet pretty much every day. It is something that I like to prepare the
night before, just so that I have an idea with where I am going in the
morning.
The fewer decisions I
make, the easier it is for me to complete what needs to be completed.
On the daily docket, I have my rhythm for the day –
essentially what I want to accomplish and about the times that I plan to do
those things. If Emma has piano lessons,
I will put that in the rhythm. If we are
doing a field trip, going to the library, obviously that all goes in as well,
and helps me to arrange the rest of the day around those out of the house
activities. I also include an
inspiration section, meals for the day, meal prep for tomorrow, my to-do list
and blog ideas. It is a good at-a-glance
sheet to keep me on task most of the day.
I keep my current Bible studies here. I decided to read through the Bible
chronologically (hopefully to be completed in a year) and that reading plan is
also included here. I keep an ongoing
prayer list in this section that I can refer to, as well as the two prayer
calendars that Kat from Inspired to Action has on her site –
one for my children and one for my husband.
Meal planning is something I am working hard to improve, and
including this section in my binder should help – that is what I am telling
myself anyways. I keep recipes that I
want to try in a pocket folder as well as meal lists – meals that I can easily
make from ingredients that I typically have on hand. I plan to expand this section a bit; I will
let you know what I come up with!
The financial section is obviously everyone's favorite
section! It centers on budgeting – yay for
budgeting! We use a zero-based
budget. What that means is that for
every month we sit down and look at the money we have coming in, and then we
give every dollar a name. At the bottom
of the budget, your income minus expenses should equal zero. Genius, I know.
The inspiration section is one of my favorites. I love quotes – you may have noticed that I
run a Sunday Quotes post every week.
I am also trying to work on Bible memorization. It isn't something that I am very good at,
but the kids work on a Bible verse every week, and I feel like I should be as
well. Often when I am having my quiet
time, a verse will jump out at me, and I underline it and then write it in my "inspiration"
section of my Daily Planning Sheet to meditate on throughout the day.
These are the projects that we are working on. And they mainly are associated with the
house. I mean, what other projects could
we possibly work on besides house projects?!
Goal lists are something that I am a pro at – completing every
goal that I ever have? Well, obviously
that takes a lot more work. This section
is where I list my goals, goals for my kids, goals for my family. I also include the steps I need to follow in
order to complete those goals.
All of the doctor information, health information, kids
vaccination lists, emergency contact information; all of that goes here, plus
more. There seem to be a lot of phone
numbers in this section! But, it is good
to have all of this available easily.
Also, it is where I keep a sheet of information for a babysitter, to put
on the fridge when we go out.
These are the sections that I am starting out with. You may be wondering about a calendar
section. I don't include one because I
have a calendar/planner that I use. I am
sure that as I go through each section and put it all together, more may come
to me. But, like I said at the
beginning, I don't want it to be overwhelming.
I am looking forward to going through this process here, with you. I hope that you will join me!
Do you use a home
binder? Are there sections that I have
omitted that are valuable to you, or a section you think should be included?