This is an ongoing series about home management binders, and how they can work for you and your family. You can find my previous posts below:
Part one
Part three
Part two
An integral part of the home management binder is the daily "to-do"
list or schedule of the day. Each person
is capable of making their own order of the day, whether it be scheduled
to the minute, a general flow or rhythm, or a list of tasks that one hopes to complete throughout the day
For me, I like to keep a running list of tasks, as well as a general
rhythm for the day. And while I tend to
put it within actual time frames, it still seems very much like a rhythm rather
than a schedule. Perhaps it is because I
know I rarely ever stick to the hours on my page, more to the order of the day. There are a few parts of my day that I can
count on, time wise, mainly meals and rest time. I try to fit everything else around those
more concrete time lines.
I have heard numerous ways to getting tasks accomplished. I have probably tried them all at one
time or another. Sometimes it is taking
a couple tasks that are the most
important tasks to accomplish and highlighting them on your to-do
list, making sure that you accomplish at least those tasks. Others have one thing that they
will constantly put off unless they do it first thing in the morning, so before they start their day, they eat their frog. I think I could easily
procrastinate my way through the day with nothing but reading for myself and to
my kids, or puttering around the garden while the kids play outside. Unfortunately, I still need to feed everyone,
and making sure we have clean laundry and dishes are always important aspects
of the day as well!
There are quite a few wonderful resources out there on the internet for
everyday scheduling sheets. Some
examples would be simple mom, and Life Your Way. But, like most things, I took everything that I researched and then made it my own. Here is what I use to schedule out my days: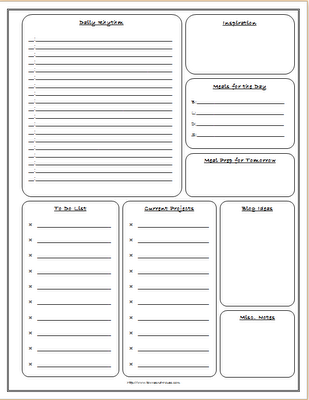 I honestly do wake up at an ungodly hour, 4am. I know it sounds ridiculous. And I guess it is somewhat, but my kids are
early risers, and unless I try to get up before them, most of my morning gets
lost. I wrote more about how I wake up
super early
last week
.
But, when I am able to
get up that early, it gives me the time I need to go through and figure out my day. Sometimes I will do this the night before, so that I don't have to be too awake in the morning, and then I can just pull my schedule sheet out and start on the day!
I start out by taking a new sheet, and filling it in. Easy as that, really. I think the page is pretty self-explanatory. Typically, I will do this after my morning
quiet time, and so I try to find an inspirational quote in my quiet time to
write at the top of the page. Something
I can look to throughout the day to help me stay motivated.
My to-do list changes every day. Each day of the week I tend to have different
tasks that I concentrate on. Monday is
the big laundry day – although I still tend to do laundry all week, Monday
always seems to have the most. Wednesdays
are the Farmers' Market, so I like to have that time open to go if I need to. Fridays I try to get some baking
done for the weekend. These tasks obviously
don't take me all day (well, except for the laundry), and I try to list fun
things that I enjoy as well as work things that I need to do around the
house. Otherwise, I get annoyed that I
don't have something fun to do. Baking
is one of my fun things, actually all cooking is, so it is something that I put
on my list (lucky for my family, right?). Reading is another, and I
schedule it in. I try not to list too
many fun things though, otherwise I won't get anything else accomplished!
I also like to keep a running list of bigger projects around the house. It helps to have a few projects that I am constantly working on, then they just get moved ahead to the next day if they have not been completed. These would be tasks like, clean out the basement, painting a room, moving furniture around. It does not mean re-do the kitchen! Although, that could be something to put on there, but I am looking more at bigger tasks for the week. Tasks that I likely will need a couple days to complete.
Do you have a list that you work with each day? Does it help you to get organized and plan
your day?
Linking to Under 300 blog hop and Mommy Club