Homeschool Planning – What do you Keep?
Here we are in June, the end of the school year for most
children. Most people see the end of the
school year as the beginning of a lovely summer break, a time to relax, undo
some of the rigid schedule, and just plain ol' have fun!
As a homeschooling mama, I have a lot of these same
desires. One may be different though,
the planning of the next school year.
Every year about this time, I start to get the itch to build
next year's curriculum. While the school
year is fresh in my mind, I want to be able to go through what worked and what
definitely did not work. I also start to
plan what our schedule will be like when we start our new year.
We school all year, so while June is typically the end of
the school year in most schools, it marks the end of one curriculum for us, and
moving onto the next in July.
June becomes a planning month of sorts.
We are still doing school, but I am thinking about what is
next for our kids.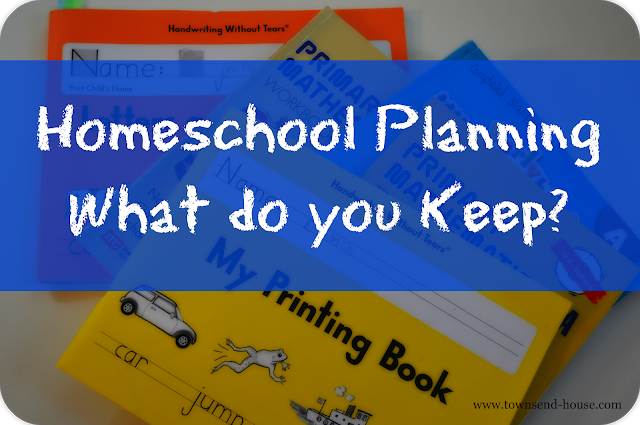 For the last several years we have purchased a whole box
curriculum from Sonlight. This has been
perfect for us because it takes a lot of the planning out of the equation for
me. I get a set of books that we are
going to read and an awesome schedule, which we loosely follow, to go through
our year.
This year is going to be a little bit different. This year will be our first year reporting to
the state that we are official homeschoolers.
Reporting to the state seems a little scary to me, I'm not
entirely sure why.
Because we have to report to the state next year, I am
taking homeschool planning a little more seriously than I have in the
past.
Sure, I keep track of what the kids are doing every week,
but I feel like I need to have better records.
I want to make sure that I have good records for myself, so
I know that we are accomplishing what we need to.
One of the options that we have is to do a portfolio to show
progress in each of the subject areas.
This seems like a great idea on the surface, it will become
a scrapbook of sorts, but how do you figure out what exactly needs to be in the
portfolio?
I have been researching and trying to figure out what to
keep, what to throw away, what to stick in a box in the attic for when the kids
have graduated from high school. It
seems a little overwhelming!
I reached out to some homeschool Facebook groups that I am a
part of, and the answers were very encouraging.
While I often think of a portfolio as a comparison of my child to
another homeschooled child, that is not what they are looking for. Instead, the person evaluating the portfolio
is looking for the student to make progress.
They want to see writing samples, book lists, pictures and videos of
projects and field trips. Whatever you
can use to demonstrate that your child is learning throughout the year in the
different subject areas the state requires.
It probably is an odd place to start for planning the next
homeschool year, the end, however, I think it is important to know what I
should be keeping and what I can let go of throughout the year.
I would love to hear what you do.
How do you decide what
to keep and what to get rid of with regards to your kids' schoolwork? Do you put together a portfolio for your
homeschool year, or a scrapbook for your public/private schooled child?