This post is written in partnership with U.S. Cellular. All opinions are my own!
Did you know that July is National Cell Phone Courtesy Month? It seems that now everyone has an iPhone that is connected to them at all times. This isn't a bad thing, but steps need to be taken in order to make sure that you are being courteous to those around you. I can't be the only one annoyed when I am trying to talk to them, but they are looking at their phone the entire time?!
Etiquette expert Jacqueline Whitmore founded National Cell Phone Courtesy Month in 2002, seeing the need to address proper cell phone use as device use was rising.
I know that there is a huge difference in using a cell phone in 2002 when there was no such thing as a smart phone, and even 10 years ago when the first iPhones came out, to now where everything is done on my iPhone 7 (banking, communicating, social media, pictures). Instead of being mindful, I think that people often will get absorbed into whatever is on their device, and can easily forget what is going on in the real world, right in front of them.
A recent U.S. Cellular survey* reveals the very people who get upset with others' cell phone etiquette breaches may be just as guilty of the same offenses they are most annoyed by.
When cell phone usage crosses the line and distracts us from what is right in front of us, that is a problem. It is almost as if we have to learn how to be present again.
What are the worst cell phone behaviors that should be avoided? U.S. Cellular has compiled the worst cell phone behaviors that people get annoyed with but still do themselves.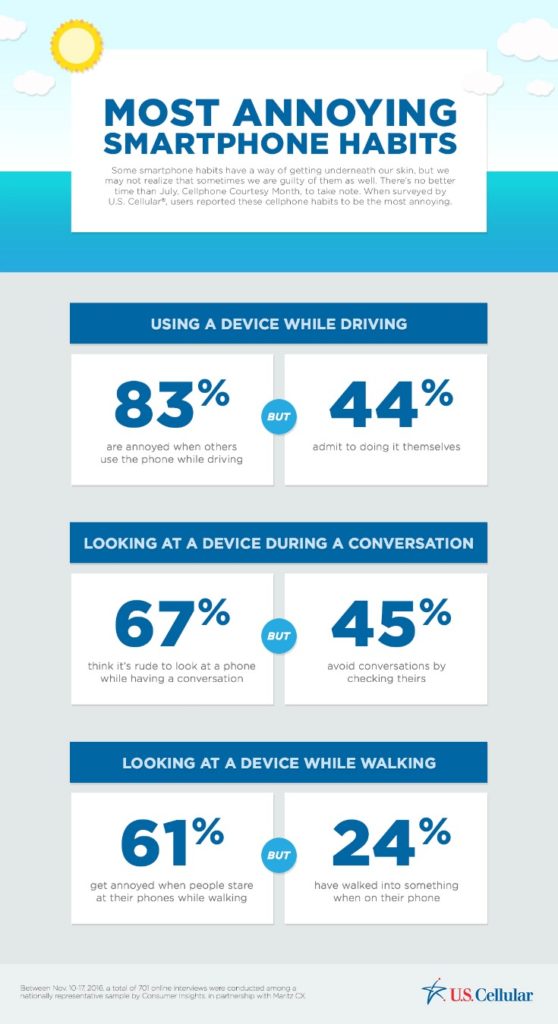 Using the phone while driving – this is number one for me. Not only is it an annoyance, but for 83% of smartphone users surveyed, it is a safety concern. 44% of smartphone users admit to doing it.
Honestly, there is nothing worst to me than driving on the highway and seeing the car to the left of me swerve right into my lane because they are looking at their phone instead of the road. It is a huge safety concern, and as a mama it is doubly concerning.
What is the answer then? Put the phone down. There is nothing that important that cannot wait until you get to your destination. No text, no social media story, really not even a phone call. If you feel like you do need to talk to someone on the phone, use a bluetooth device, or better yet, pull over and stop.
Looking at a phone during a conversation – this is another pet peeve of mine. If I am talking to you, but you are looking at your phone, you are telling me that what I say is not important, and whatever is on your phone is more important.
According to the survey, 67% of people are annoyed by this behavior, but 45% also admit to check or use their phone in order to avoid having conversations.
Instead of doing this, just put your phone away. When you go out to dinner with someone, put your phone away, don't leave it on the table. Concentrate on the connection in front of you rather than the connection through your screen.
Looking at a device while walking – this can definitely be dangerous, especially if you are unaware of what is going on around you. I am guilty of doing this when I walk at our local high school track. I will look down at my phone while I am walking, and then cross several lanes in the process – luckily I am usually there when no one else is around, otherwise I could see potential collisions with other people!
According to the survey 61% of cell phone users are annoyed when someone is staring at their phone while walking. In fact 36% of respondents said they have been walked into by someone looking at their phone instead of their surroundings. 24% admitted to being the person walking into someone else as well!
The best option if you do need to check your phone while walking is to stop and move to the side, look at what you need to, and then put the phone away and keep going.
Are you guilty of any of these cell phone etiquette no-no's?
*Between Nov. 10-17, 2016, a total of 701 online interviews were
conducted among a nationally representative sample by Consumer Insights, in
partnership with Maritz CX.