I am a member of the U.S. Cellular Blogger Brigade, and this is a sponsored post. As always, all opinions are my own.
As we move into the warmer months most families seem to be
thinking about summer vacation – I know that I am! And with summer vacation the opportunity to
travel arises. Yesterday I mentioned how
we are going to be slowing down a bit this summer, but that does not mean that
we won't be traveling a bit as well.
Having a way to know my house is safe and secure, and the ability to use
apps on my iPhone to monitor everything while away is an amazing use of
technology.
*According to the FBI,
a home burglary occurs on average every 20 seconds in the US. There is an increase in summer months due to
more frequent travel with kids out of school.
That statistic was a little eye-opening to me! But, fortunately, the latest connected home
devices are able to provide us all with a little extra comfort when we are
away. Utilizing U.S. Cellular's fast,
high quality network allows you to easily monitor and manage a variety of functions
at your home through remote access on your iPhone 7 or Samsung Galaxy S8
device.
**Almost one third of
smartphone owners recently surveyed by U.S. Cellular said they use their device
to control their home security system, lighting, or other smart home technology
at least once a day. Almost half note
they use that technology at least once a month or more.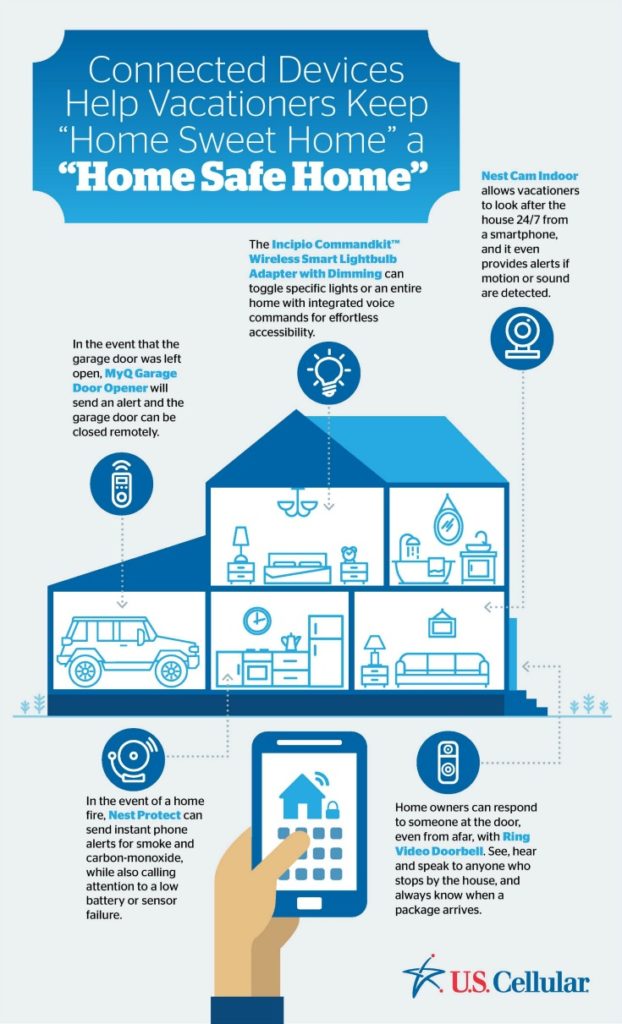 What are the best
tech devices to use?
Nest Cam Indoor – With this device vacationers never have to
worry about what is going on at home again allowing you to look after the house
24/7. You are able to see live video and
a 160-degree wide angle view, all from your smartphone. It will also provide phone alerts if motion
or sound are detected, so the homeowner will know immediately if something is
wrong.
Nest Protect – This is a handy little smoke and carbon-monoxide
alarm. It will send you instant phone
alerts if smoke or carbon-monoxide is detected, but will also let you know when
the battery is running low or if there is a sensor failure.
Chamberlain MyQ Garage Door Opener – A great option for those
of us who get far away from our home just to try and remember if we shut the
garage door or not. It will send an
alert to your phone if you have left your garage door open while away, and you
can also use your Galaxy S7 or other tablet to remotely close it.
Incipio Commandkit™ Wireless Smart Lightbulb Adapter with Dimming
– While a bit of a mouthful for a name, it is a pretty straight forward
product. It allows you to turn lights
off if you forgot to, and you no longer have to toggle between a bunch of timer
switches at home to make sure the lights turn on at specific times. You
can use the app to turn on specific lights with integrated Siri voice
commands.
Ring™ Video Doorbell – A handy device that allows you to
respond to someone at the door, even if you aren't at the house at the
time. You can see, hear, and speak to
anyone at your door and always know when a package arrives.
Are you planning any
fun trips for this summer? Do you use
smart home technology to give you peace of mind while you are away?
*FBI's Uniform Crime Report for
2015 reports 1.58 million burglaries for the year, for an average of one
**Between Nov. 10-17, 2016, a
total of 701 online interviews were conducted among a nationally
representative sample by Consumer
Insights, in partnership with Maritz CX.