Every year I try and make hats for the kids. I wrote about Jack's hat way back in July, and I even wrote about starting a hat for Emma. Yet, for some reason it didn't pan out. I think it was because I was short on yarn. I knew it when I started, and instead of joining a new ball of yarn when I would eventually run out, I wanted to start with a fresh ball of yarn.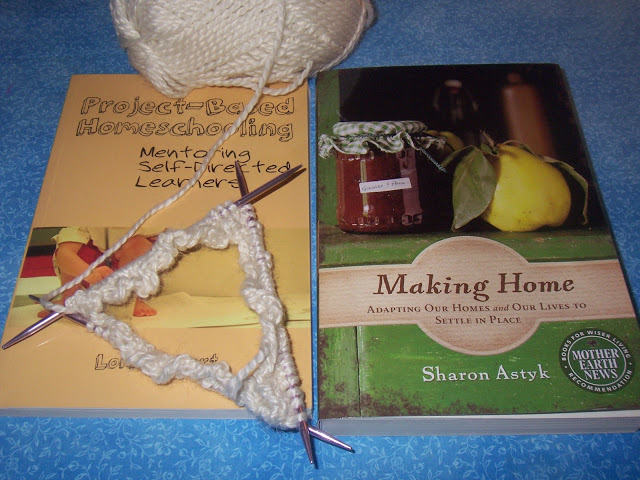 So here it is, January 2nd, and I am knitting her Christmas hat. I don't think she really cares that much about when she receives it, just that she does. I have written before about how much I love to hear her make knitting requests from me (although they are typically tall orders!). Once I let go of the pressure to make sure I had it done by Christmas, I felt better. I know I will finish it this week, because I am not under the pressure! It seems to work so much better that way. Granted, it is all self-made pressure, but pressure nonetheless!
As far as reading goes, I have started two books. The first is Project-Based Homeschooling: Mentoring Self-Directed Learners, which I saw on the yarn along a while back. We are at the very beginning of our homeschooling journey, and I am constantly adjusting what we do to try and help my children be the best learners they can be. I think this book will have a lot of good information, and it will definitely be one that will take me a bit of time to get through.
The other book that I am planning to start…soon…is Making Home: Adapting Our Homes and Our Lives to Settle in Place, which I received before Christmas but still haven't started. I really would like to read this book with Matt. I talk and talk and talk about changing our lives, moving to a plot of land, enjoying a subsistence lifestyle, however, that is not happening today, or tomorrow, or even in 6 months if I am being honest. So, I have been working on making our house our home, and doing as much as possible to make it work for us, instead of using it as a temporary dwelling. I hope you all have had a wonderful holiday season!
Do you take a break after the holidays from knitting? Or do you take one before the holidays like I did?


Joining in with Ginny and her yarn along.