I was so excited to be selected this month to do a review for (in)spired deals! The products that come out of there are so inspiring, and well crafted! I was sent the wonderful Good Things – Teacup and Tote set. And what a set it is.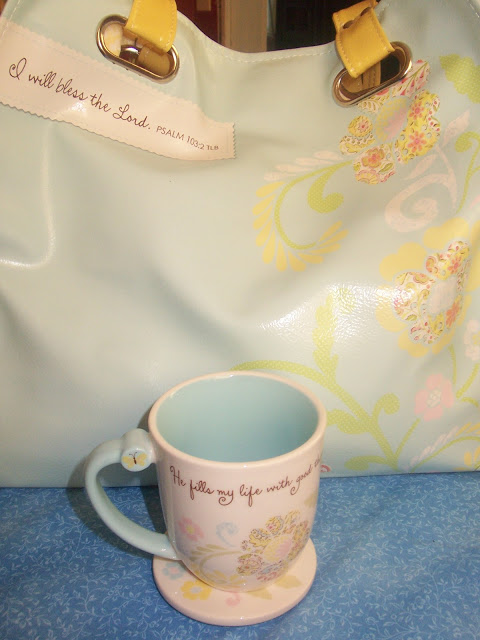 The bag is excellent quality. I thought when I was receiving it that it would most likely be a re-usable bag for the grocery store, not the case at all. It is well crafted of a heavy material that is easily cleaned by wiping with a cloth. The interior is a beautiful yellow fabric that make me happy to look at – yellow is one of my favorite colors. The top is held together by a magnet clasp, and there are pockets inside to store what you need.
This bag is perfect for going out for the day. I found that I could store a couple of diapers and wipes, as well as all of my other needed mama things, in the bag with no problem. The straps were comfortable as well, which is important when you end up lugging around half of your house just to get to the grocery store…
I was also sent a beautiful tea cup with a lid. I have been drinking a lot more tea lately, and this teacup is inspiring to drink from. With the verse: He fills my life with good things Psalm 103:5, it is a lovely reminder to think of what I am thankful for.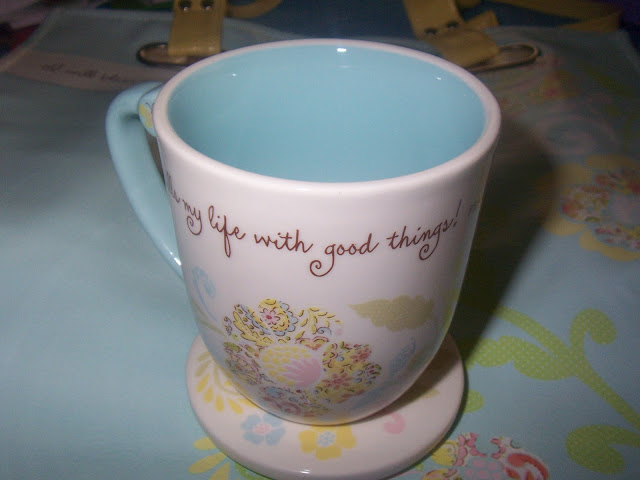 Being a mom is such a blessing. Sometimes we don't realize how wonderful it is, especially when we are in up to our elbows in dirty diapers, and trying to get food into babes mouths instead of on the walls or floor! I never expected to feel so much love for my children as I do. Of course I knew that I would love them, but the depth of that love is amazing. Each day to see their smiling faces look up at me and smile, or to tell me that they love me, it is amazing. And the verse on this teacup reminded me of that.
And you, dear readers, are going to now have a chance to win this same set from DaySpring! All you have to do is leave a comment on this post. Easy peasy 🙂 And for extra entries, do the following, and then leave a comment that you did it!
Follow my blog on GFC
Follow me on Twitter
Tweet about this giveaway
Share this giveaway on Facebook


I will keep the comments open until May 31st, and then draw the winner! Please make sure that you leave an e-mail address so that I can get in touch with you if you win!
*DaySpring sent me this tote and teacup set in return for my review. However, all the opinions shared are my own.


I am linking up at Giveaway Day!