I will be the first to admit that we have a paper problem in our home. It is everywhere! Between bills that need to be filed, construction paper from the kids, and all the lists that I make daily, we have a lot of it.


I am always the first to say that I hate paper! However, the more I thought about it, the more I realized that I actually love paper.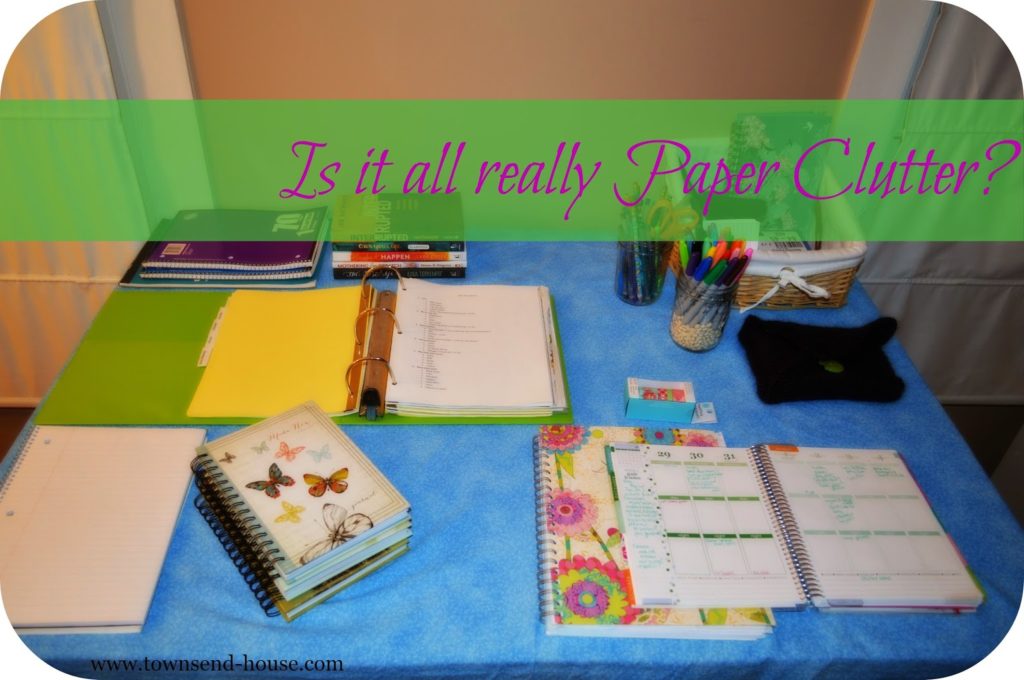 I looked at my "command central" and realized that it is all paper. I do often have my computer here as well, but for the most part, paper.


Try as I may, I cannot seem to move to digital for the following pieces of my life: calendars, journals, lists – although I do have a great fondness for Evernote and use it regularly.


I have two calendars, an Erin Condren Life Planner for my personal calendar, and then another calendar for everything blog related. I have numerous journals, the stack in the front are new ones that I just ordered. I have my home management binder, and then tons of 5 cent notebooks that I purchase on sale at the beginning of the school year every year.


The paper clutter that I don't like, is the numerous pieces of paper the kids use in their crafts, the bills that come in – do I really need to keep them all? All of the junk mail that doesn't quite make it to the trash is also included in that list.


I have a tip for keeping the paper clutter under control – use baskets!


I have a basket that the kids put their scrap paper in, since this is the biggest culprits of paper clutter. My children love to cut out pictures, shapes or whatever from many pieces of construction paper, and then 75% of it is discarded to the craft table, never to be used again. But, having a basket where they can place this paper allows them to have a source of paper when they need scrap paper, or small pieces for a project.


As far as bill clutter goes, the key to this is online bills. Almost all of my bills I receive online now. A few local bills such as water and sewer and oil still have paper bills that I need to deal with, and those go in a file folder in my filing cabinet.


Do you have a problem with paper clutter? Do you secretly love paper in your home? Have you moved to a completely digital system for organization?