This entire fall has been so strange, 90 degrees on Columbus Day, snow for Halloween, 65 degrees yesterday. I am not complaining of course, I would never do such things. And besides, after what I said yesterday, I don't want people to think we are actually cold here 🙂 We are not…for the most part!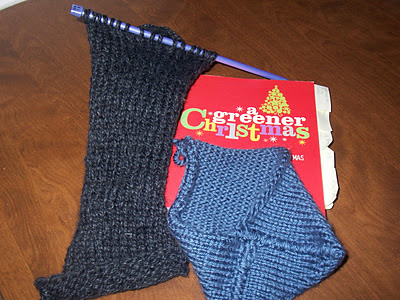 Onto the yarn along! I am joining in with Ginny again this week. It is so fun to see what everyone else is knitting, and last week I got a great idea from one of the other bloggers for a Christmas gift, yay! My knitting this week has been kind of boring, which is good for me. After a few weeks of socks and other knits in the round, I could use some plain old stockinette in my life! I wanted something I really didn't need to think about, and so I am making a scarf this week for the hubs. I am also in the process of making some really cool knitted envelopes. I saw the idea here and thought, I can crochet…no…no I can not crochet. I think counting might be involved, and I can't deal with the counting. So I decided instead to knit one, and it worked out pretty well. I am using a chunky yarn, so I was able to get almost an entire one done during church on Sunday. 🙂
This week I am reading an awesome Christmas book called A Greener Christmas. I bought it a couple years ago and I love it. There are gift ideas, decorating tips and delicious recipes. They are all relatively easy, which I like, and given the title, are all pretty green. She talks about re-purposing fabric, and using nature to decorate for the holidays. I seriously recommend it. Last Thanksgiving I made the recipe for cranberry jelly, and it was a huge hit. My family is big on the cranberry jelly in a can (hi gregg!) and I have been trying to find an alternative. I saw the recipe in this book, tried it, and it was a huge hit, blowing the canned stuff out of the water. It will be on my list again this year. There is also a really amazing brownie recipe.
I would love to know if anyone has trouble finding yarn for the men in their lives? I get bored with navy blue… Am I really destined for blue/black/brown if I knit for guys?