Technology is definitely here to stay.
I know that I, myself,
have fought it a lot.
I have this deep
desire to have a balance but also be connected, but sometimes balance is hard to come by when you
have a phone attached to you at all times.

As a mom, I want to set good
standards in etiquette for my children, and cell phone usage is no exception.
There are days when I feel so run
down after running around with the kids all day, and all I want to do is pick
up my phone and peruse pinterest or Instagram for as long as possible. Oftentimes I have caught myself just checking
my phone and telling my kids to wait for me to finish. Is this the example I want to set for
them? Absolutely not! I don't want them to see the phone as more
important than whatever they are trying to talk to me about.
One of the ways that I try to
combat this is to look at my children when they speak to me, instead of just
yessing them and nodding my head, actually look them in the eyes so they know
that I am paying attention to what they say.
I'm sure my e-mail or text message will wait the two minutes it takes my
son to tell me a story about one of his toys.

A feature that I love on the Apple iPhone5s is the "Do Not Disturb" setting. You
can set it to come on automatically at a specific time during the day, which I
did as soon as I got the phone. I have
the Do Not Disturb come on at 6pm and go off at 7am the next day. Part of the reason is because I don't want my
phone dinging through dinner and all night long, but also because I want to
just put the phone away. Don't worry, if it is an important call, the second time the number tries to call you it will ring through.
A Pew Research
survey found that 67 percent of cellphone owners find themselves checking their
phones for messages, alerts or calls – even when they don't notice their phone
ringing or vibrating.
Another
interesting statistic – *According to a recent U.S. Cellular survey, 37 percent
of users say others get upset with them for phone use, while 63 percent say
they get upset at others for phone use.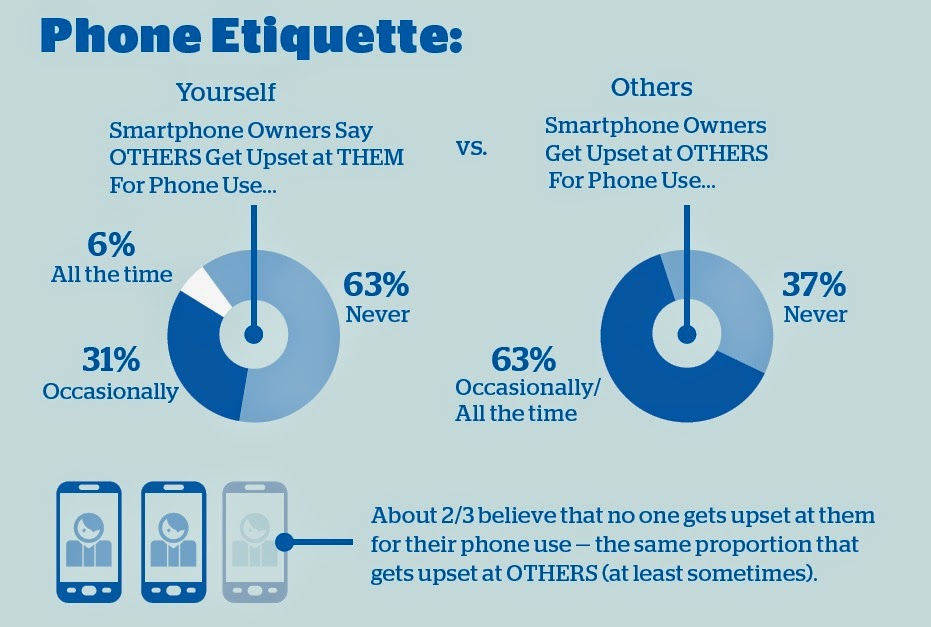 Essentially,
other people bother you with their cell phone usage, but you don't bother
anyone? Interesting thoughts.
That statistic
seems crazy to me! I think that
technology is incredibly useful in our everyday lives, but sometimes we forget
to be in the here and now, and are instead constantly in the online worlds we
have all created for ourselves. And
while I love that I get amazing coverage through US Cellular, I don't need to
constantly use it when I am out or at home.
I can take a step back and enjoy what I am doing instead of rushing
through and not observing what is around me.
Some tips on
improving courtesy by busy cell phone users:
Set
the ground rules; especially with your children. If you are eating dinner, make it a point to
put all of the electronic devices away.
US Cellular offers a great contract agreement between parents and
children to fill out and set the ground rules in your own family – you can find that here.
Seek to understand. Everyone's needs for cell phones are different, and so is the way that they use them. It is helpful to understand the ways that someone uses a cell phone. Focus on the similarities instead of the differences and it will help you be more courteous to others' expectations.
Don't
be a buzz kill. The vibrate function
on a phone is awesome, but not so much when it is sitting on a table in a
meeting, or at your dinner table. Put
the phone in your pocket, it will still notify you that you are getting a call
or message, but it won't notify the rest of the people in your party.
What
are some ways that you are trying to be more courteous when using your cell
phone? Do you find that it interferes in
your everyday family life?
*Between November 15th and December 2, 2013, 500 nationally representative online interviews were conducted among smartphone users in partnership with Maritz Research.
I am part of the US Cellular Blogger Brigade Ambassador program, and this was a sponsored post. However, the opinions, as always, are my own.