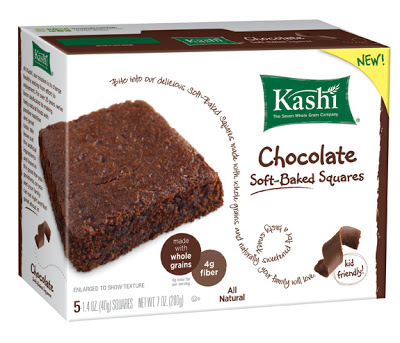 As someone who is committed to simple living and the food that my family puts into our bodies, I am constantly looking for recipes and snack ideas that meet my idea of healthy. I spend a lot of time making snacks from scratch, but sometimes I need something quick.
That is where Kashi Chocolate Soft-Baked Squares come in. I was lucky enough to be sent a box of these to try with my family, and my goodness they did not disappoint! They were just the right amount of sweetness and rich chocolate. My kids (like most I'm sure) love chocolate, and having these available to try was a great treat for them. With only 9 grams of sugar in each square, I was seriously impressed. By combining cocoa, sweet potatoes and black beans, I felt like I was providing something other than a brownie to my family! I will definitely be going back to these again and again!
More about Kashi:
-Founded in 1984, Kashi is a pioneering natural food company dedicated to providing great tasting, nutritious foods that help people feel their best so they can do the things they want to do. As a natural lifestyle leader for more than 25 years, Kashi is on a mission to help people feel healthier and happier.
-Kashi foods feature a signature combination of seven whole grains and are natural, minimally processed, and free of highly refined sugars, artificial additives, and preservatives.
To find out all the latest news from Kashi you can "like" their facebook page here.
Now onto the fun part for you! Kashi has been generous enough to offer one of my readers two vouchers for free Kashi products and one reusable lunch tote. Please enter using the rafflecopter below!
I received this product for free from the sponsor of the Moms Meet program, May Media Group LLC, who received it directly from the manufacturer. As a Moms Meet blogger, I agreed to use this product and post my opinion on my blog. My opinions do not necessarily reflect the opinions of May Media Group LLC or the manufacturer of the product.


I am linking up at giveaway day!