My kids are definitely snackers. I don't think there is any way around it. I am actually ok with this, although many people would not be. I feel like it is the best way to get food into my kids at the moment.
They eat a pretty good breakfast everyday. Oatmeal with blueberries or bananas and cinnamon and nutmeg. Seriously, everyday they eat that. I like oatmeal, but I am more of a butter and brown sugar kind of girl, and I am not sure I could eat it every. single. day. So they have a good start to the day. Then they typically will have a snack a couple hours later.
But what to do for lunch? I am always at a loss. By the time I get everything done in the morning that I need to, I am starving, and end up making food for myself around 10am – which is typically a salad. I know, strange at 10am, but it works for me. So I am not really hungry for lunch when the kids usually eat around 11 or 11:30. And not feeling like making a large meal that no one will eat (besides Matt).
Last week I decided to give them a bunch of things to choose from and hope for the best. They ate pretty much the entire plateful, which surprised me. It was a lot of food I thought 🙂 What did I give them? This: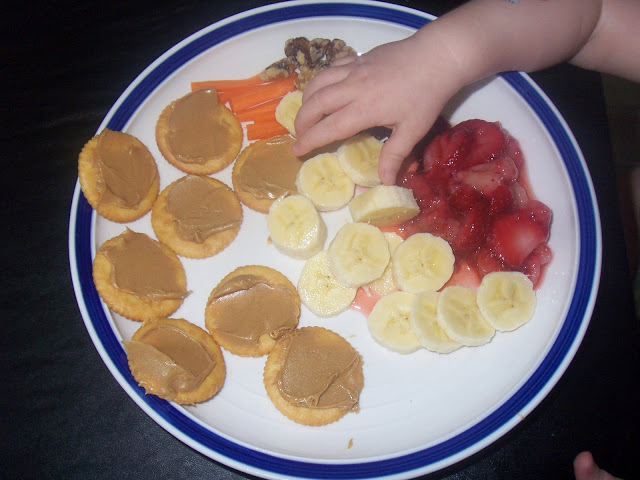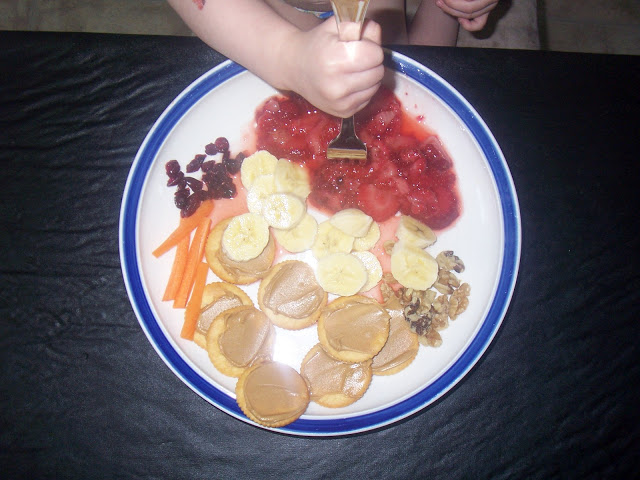 frozen strawberries
bananas
carrot sticks
crasins
walnuts
crackers with peanut butter (yes those are ritz crackers, yes I know they aren't the healthiest choice)
Ever since I started making this type of a lunch, they have been really good about eating everything. Of course it is heavy on fruit, but fruit is good for you. Sometimes they get kimchi, ginger fermented carrots, or pickles. Sometimes they get a green smoothie and homemade bread and butter. And, they are going down for rest time better. I think because they are eating more.
Of course, dinner is still whatever I make, but I don't think that catering to them at breakfast and lunch is a bad idea. I am home all day with them, and while I would love for them to eat some of the other meals I make for Matt and I, if they don't, this is very easy to throw together.
What do you make for your kids for lunch? Do you do snack type meals? Keep in mind that my kids are almost 4 and 19 months 🙂