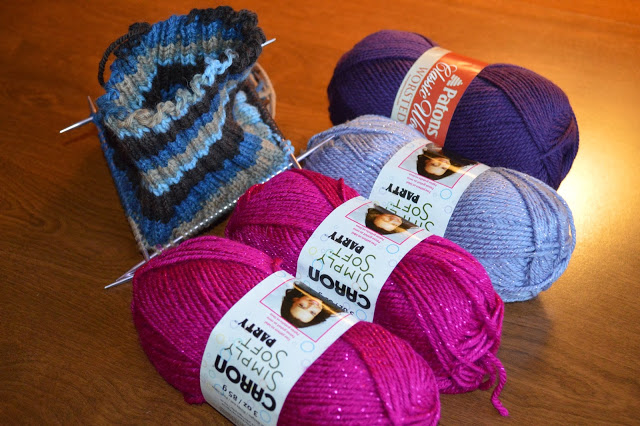 I am happy to report that I have made significant progress on Jack's hat. Actually, I think if I could sit down for longer than a few minutes at a time, I would be able to finish it up. I do love how fast hats knit up! There is something very satisfying about a quick knit! I hope to finish it up this week and get working on Emma's hat.


I was also able to go up to the yarn store a couple days ago and bought some new yarn. I have not bought yarn for a long long time. Actually, I think it may have been last winter that I last bought new yarn. It was fun to take the kids and pick out what they wanted for hats and a couple other small Christmas presents. Granted, Emma wanted to buy all of those fancy textured yarns that I have trouble knitting with…but we were able to settle on sparkly yarn instead.


As far as reading goes, I am looking at a lot of recipes at the moment – as I am sure a lot of people are with the Thanksgiving holiday coming next week. I also just finished a great series with the kids called Travels with Gannon and Wyatt. You can read my review here, and if you are interested, there is also a giveaway! Great Christmas gift for kids!


I can't wait to see what everyone else is knitting and reading this week!