I have done it! I am officially done knitting my runner – my very short runner! Actually, it is perfect. The shelf that it will eventually be going on top of is only about two feet wide, so it will be just on the top of the shelf, which is what I wanted.
I thought that I would go on to the second ball of green yarn that I had, but then remembered that I have a baby who likes to grab at things, and if I make this runner to hang over the top of this very short bookshelf, she will most definitely pull it off, along with everything else that I plan to place on the top of the bookshelf.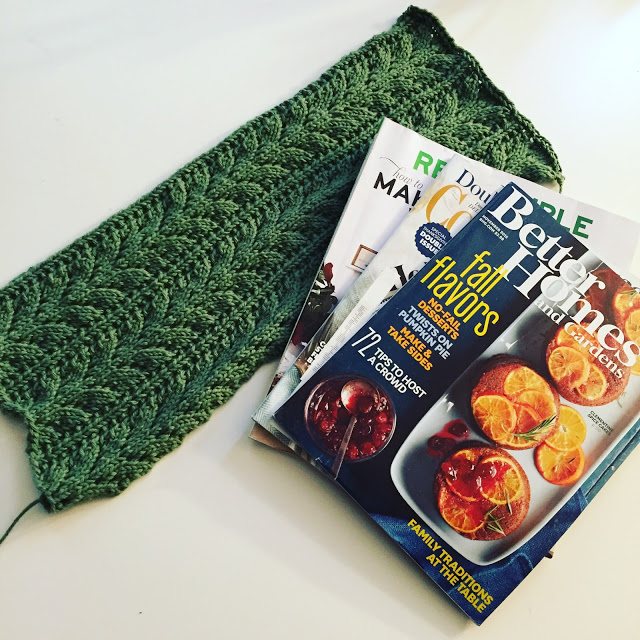 "What about the books?" you ask, well I have the bookshelf crammed incredibly full of books so that it takes a little bit of work to get the books out…I learned my lesson when my oldest was a baby.
As far as my reading goes, I have taken a break from book reading (didn't I just get back into book reading?!) to work on some of my fall magazines.
I love the holiday season, and all that it offers food wise. Food, glorious food, I can't seem to get enough of all the fancy ways to prepare these delicious fall vegetables. I am on the lookout for new dishes to prepare for Thanksgiving and Christmas. I love to have something new each year, and drooling over the recipes in the magazines doesn't help me narrow it down at all. Plus, all the beautiful tablescapes…I love it!
Also, can we all agree that Thanksgiving in two weeks is a little insane? Thank you!
What's on your needles this week? Are you reading anything fun?