Right at the beginning of the month, I wrote about my March Goals and then I promptly took the following week off from blogging. It is amazing what you can accomplish in a week when you step away from the computer.


That being said, I thought I would have a lot more knitting progress to show you today, however, I do not! I am almost done with this skein of yarn for the scarf I am knitting for Emma, and actually, I might not need to go for the second skein. I love long scarves for myself, but I don't want one that is super long for Emma that may get caught when she is out running around.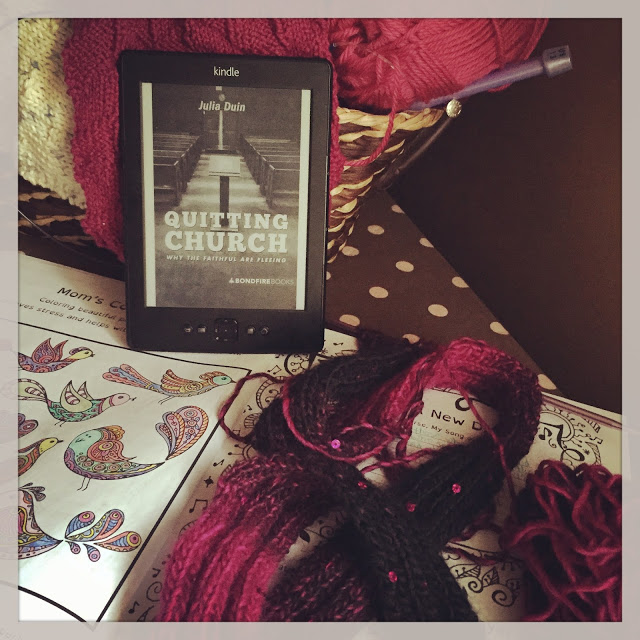 My knitting has become side-tracked again though, and I plan to cast on a new project today…if I can find the right yarn in my stash. My brother and sister-in-law just welcomed their third little one into the world, and because of that, a little newborn knitting is in order! My plan is a hat, one that is very quick, especially if I want to complete it before we go to visit them…very very soon. With my ability to knit slower than molasses, well let's hope that I will finish the hat before it no longer fits her!


My reading, I haven't done as much reading as you would expect after taking a bit of a blog break. I mentioned in a previous post that I started reading my old Mandie series books to the kids, they are enjoying them. I have also been spending a lot of time looking at book lists for homeschooling.


I have finished one "for me" book though. It is called Quitting Church. I had read several quotes from this book in another book, Barefoot Church by Brandon Hatmaker (Jen Hatmaker's husband), and thought it might be one that I would enjoy reading. Don't let the title scare you. It is a book about why people in Gen X & Y are leaving the church in droves, everything from "services are too flashy" to "there is more community and depth available online." It was a fascinating read, and I was nodding my head right along to a lot of it. It examined all manner of churches, too, house churches, Catholic churches, Mega churches, small community churches, Orthodox, non-denominational. I definitely recommend it. One of the best non-fiction reads of this year for me!


Overall, it was a nice break, and I am happy to be getting back into the groove. I think the spring weather is definitely helping me feel a little more productive.


I know that most people do not like daylight savings time one bit – I was one of those people. But, this year, it seems to be working in my favor. The kids are staying in bed later, and I am able to have a large chunk of time in the morning to get all of my *stuff* done! Of course, now that I mentioned that, we will see if it continues…


What are you working on this week? Any good non-fiction books I should add to my list?