Well, I knew it would happen eventually. The pull of the beautiful weather would call me to my garden, and that is where I have spent most of the last week. I was able to clean up some of the garden beds, although I still have several to work on, which hopefully will be done by this weekend.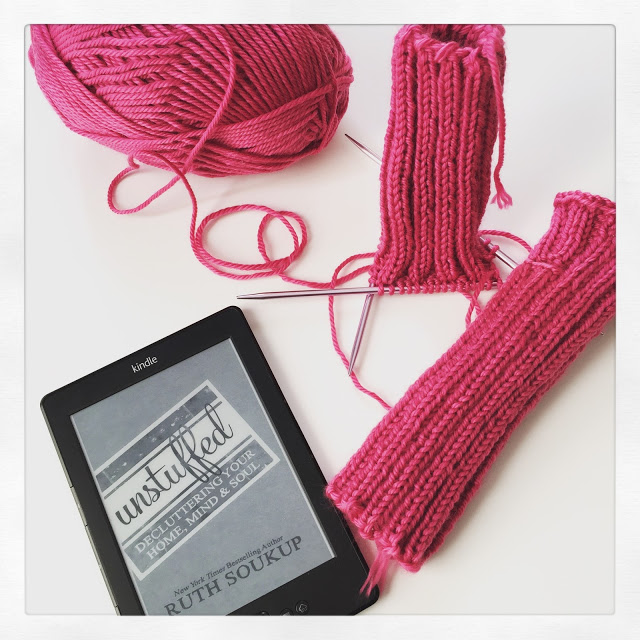 Yesterday, however, it was rainy and gloomy. That is perfect knitting weather for me! So I sat down to work on the second wristlet, which will now not be needed until next fall, but at least I can set them away and know they are available to give as a gift!
I am still working on that one silly sock. And when I say working, I really mean thinking about working on it. I need to take a bit of time to figure out how to finish off the toe when I don't have my stitches on the right needles in order to follow the pattern. I know it won't take much to figure it out, but having a little quiet time in order to think is hard to come by recently! I will get to it eventually.
And while I talked about trying to finish up my projects on the needles, I was thinking about knitting up some dishcloths. I love to knit them up because they are quick, we use them, and I can try out all kinds of pretty patterns. I plan to finish the wristlet first, but then, then I will probably cast on for a dishcloth.
As far as my reading goes, I am still reading Faith Unraveled. I'm not sure how I feel about it yet. I am not very far in, maybe 20%, and I can't figure out the author's tone, whether it is really negative, or if what she says I just disagree with. I will plow on, because I would like to finish it, it is interesting, but I had to look for a different book too. I came up with Unstuffed by Ruth Soukup – all about decluttering your life. A book right up my alley! She is also the author of Living Well Spending Less which I read last year and loved.
Is the weather pulling you outside? Do you finish books even if you don't really like it?