I am doing a lot more reading than knitting this week. I think as we move into planting season, that will continue. I am constantly trying to learn more about providing food on the very small amount of land we live on (about a quarter of an acre).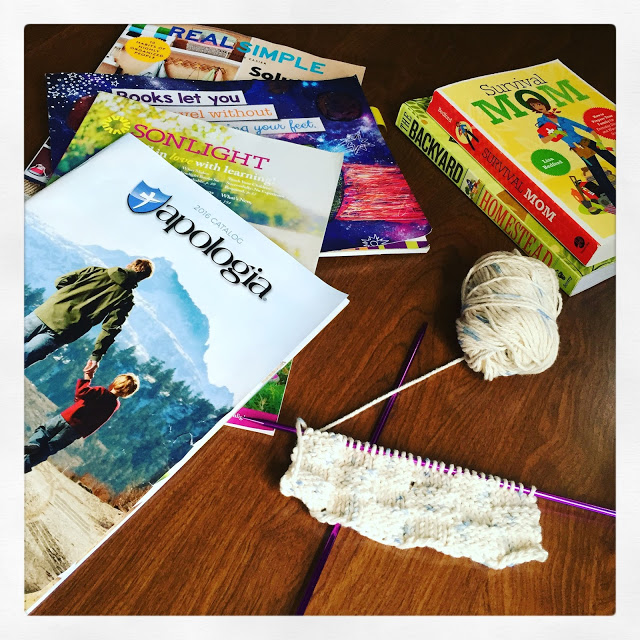 My knitting continues to consist of dishcloths. I figure if I start now, by the time Christmas comes around I *might* have enough dishcloths knit for Christmas presents! I have had people ask in the past if I actually use knitted dishcloths – and I do! They are my favorite rags to have on hand actually, because they work so well. It is also a perfectly good use for leftover cotton yarn. If you are ever gifted knitted dish cloths – use them!


As far as reading goes…there are a lot of magazines being looked over right now. I did purchase some new curriculum in March, but I know that I will need to purchase more at the end of the summer. I tend to work in seasons, instead of buying everything I need for the year at once, I tend to buy 3-4 times a year. It isn't as much of a financial outlay all at once, and I can easily change things around because I don't have so.much.curriculum on hand.


Because I have been reading so many post-apocalyptic books as of late, I dug out my copy of Survival Mom. This book has so much amazing information in it. It is truly a well-rounded book for moms on how to prepare for everyday disasters. I know a lot of people hear "survival" or "prepper" and think crazy, but being prepared for natural disasters, extended power outages etc. is a worthwhile thing to be invested in, especially as a mom who has littles to look after.


The other book I am reading right now is one I refer to every year, it is The Backyard Homestead. I love this book because of the tagline – "Produce all the food you need on just a quarter acre!" Sounds good to me! Of course I can't do a lot of the stuff they recommend in the city, but I love the information in this book. It is encouraging to know that I can produce a lot on my little plot of land, and learning as much as I can in order to do so is on the forefront of my mind – especially in the spring.


Do you have specific books you read in different seasons?