This post contains affiliate links. If you make a purchase after clicking one of these links, I may receive a small commission at no extra cost to you. Thank you for supporting Townsend House!
Before I get on with my knitting and reading, I wanted to let you know that there is an amazing resource available today, The Ultimate Homemaking Bundle. If you have ever struggled with keeping your house clean and organized, or making sure that you have healthy meals and snacks for your kids, this bundle is for you. The categories are vast – everything from budgeting to in the kitchen, to marriage and motherhood, organizing and DIY – so much great information! I can't wait to get my bundle this morning, and wanted to pass along such a great deal. If you buy the bundle, I would love to hear what you think of it in the comments below!
I finished Emma's one sock. I actually sat down to do it last night while the kids were taking a bath because I knew I wouldn't finish it otherwise. I really messed up the toe, but at least it is finished!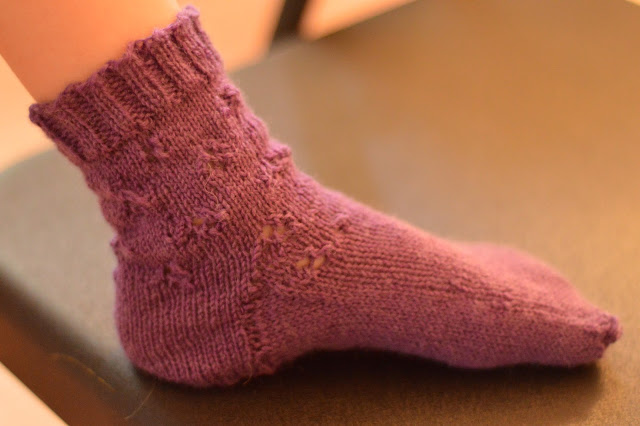 When I showed Emma she said "Is this for me?! I love it!" And then proceeded to wear the one sock around for the rest of the night, and was mad when I asked her for it back. In my book, that is success!
I'm almost done with the second wristlet as well, so that is making me happy. Getting these couple of little projects finished in April was a goal of mine. I was tired of seeing them unfinished. Now, of course, I still need to knit the second sock…but we will get there!
As far as reading goes, I plan to go through all The Ultimate Homemaking Bundle Books today to see which ones I want to look at first. It can be a bit overwhelming with so many resources, but I like that they are separated by category – that makes life a little easier for me.
I am also still reading Unstuffed and Faith Unraveled, although I have not made much progress in either the past week because a new book was magically delivered to my kindle Eligible by Curtis Sittenfeld. It is no secret that I love Pride and Prejudice, so when there was a modern retelling coming out, I obviously wanted to read it. I'm about 12 chapters in (it is quite long, over 500 pages) and I'm not sure how I feel about it yet. It is definitely different than the original, set in Cincinnati and Jane and Elizabeth are much older, 40. I'm not sure why that sticks out to me except that I feel like a lot of the innocence of all the girls is lost because they are so much older in this book, and instead of silly and fun, it seems a little depressing…but I'm only a little ways into the book, and I am interested to see where it goes (which is obviously a happy ending with Mr. Darcy).
What is one challenge you have with homemaking? Me, I can't seem to get a handle on all the stuff no matter how much I declutter!